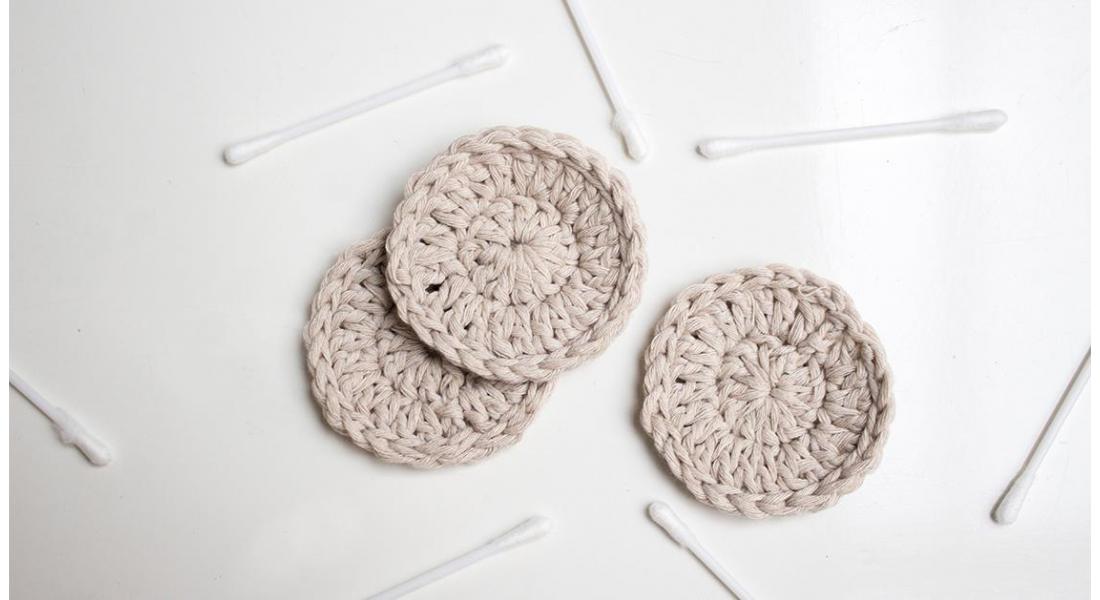 Reusable and super easy to make!
Have you ever thought about how many cotton pads you use on a daily basis to clean your face? If you clean your face every day, you can easily save hundreds of cotton pads per year by using crochet face scrubbies. Crochet scrubbies can be reused many times and are ideal for removing make-up or a face mask; soft yet firm! And it is easy to keep your crochet scrubbies fresh and clean with a machine wash. Good for your wallet, good for your face and environmentally friendly too.
These cute face scrubbies are crocheted with Soft Cotton DK recycled cotton yarn. They are super quick to make and machine washable. Do use a washing bag, so you don't lose them in your laundry! After washing, let the face scrubbies dry flat and they are ready to use again!
What yarn can be used for making crochet face scrubbies?
Of course you can make your scrubbies in all colours. We do however, recommend to choose a light colour. This makes it easier to check if the scrubbies are clean after washing. We crochet the scrubbies with Soft Cotton DK, a budget-friendly recycled cotton yarn for all your DIY crochet and knitting projects! This yarn is durable, affordable and super versatile! And did we mention its softness?
The Soft Cotton DK Mosow White and Soft Cotton DK California Sand are beautiful neutral colours. But if you like brighter colours, Soft Cotton DK Riga Yellow, Soft Cotton DK Dublin Blue and Soft Cotton DK Jaipur Rose are also very good options.
One ball of 50g. Soft Cotton DK roughly makes 20 face scrubbies. This is more than enough to make a batch for yourself and a practical DIY gift for someone else. Crocheting scrubbies is a fun and easy project for beginners. The scrubby is finished quickly and is ideal for using up yarn leftovers from your yarn stash.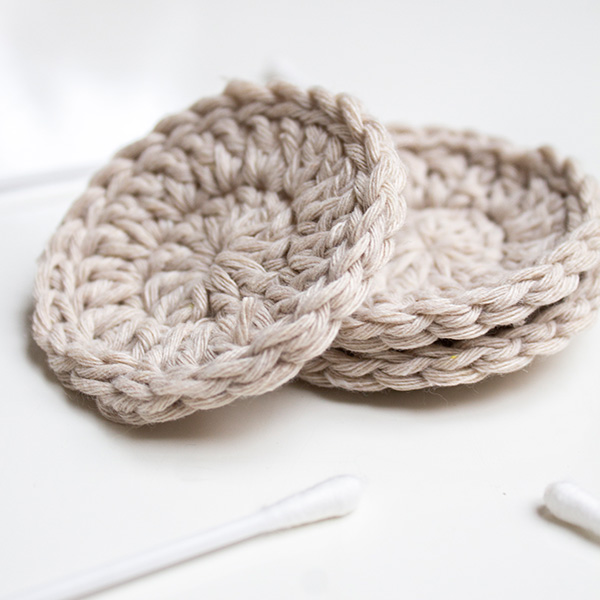 How to crochet face scrubbies?
What you need:
Stitches used (UK terms):
Magic loop
Chain (ch)
slip stitch (sl.st)
Treble (tr)
repeat (*…*)
Step 1: Make a magic loop
This is a great way to start any round crochet project. With a magic loop you make an adjustable loop, enabling you to perfectly close the ring.
Don't know how to make a magic ring? Watch the video below and practise first.
Step 2: Crochet in the round and increase
Did you master the magic ring? Then you can start crocheting in the round.
Don't know how to increase in a round? Watch the video below and practise!
R1: Chain 3 (counts as first stitch), crochet 11 tr in the ring, close with a sl.st in the top of the first 3-chain (=12). Close the ring by pulling the thread.
R2: Chain 3 (counts as first stitch), crochet 1 more tr in the same stitch *2tr in every stitch* repeat round out, clos with a sl.st. in the top of the 3-chain (=24).
R3: Crochet 1 sl.st. in each stitch, fasten off.
Tip: You can crochet the last round in a contrast colour, by changing colour in the last loop of the slip stitch of the previous round. Using a colour scheme you can use for example a different colour scrubby for each day of the week ????