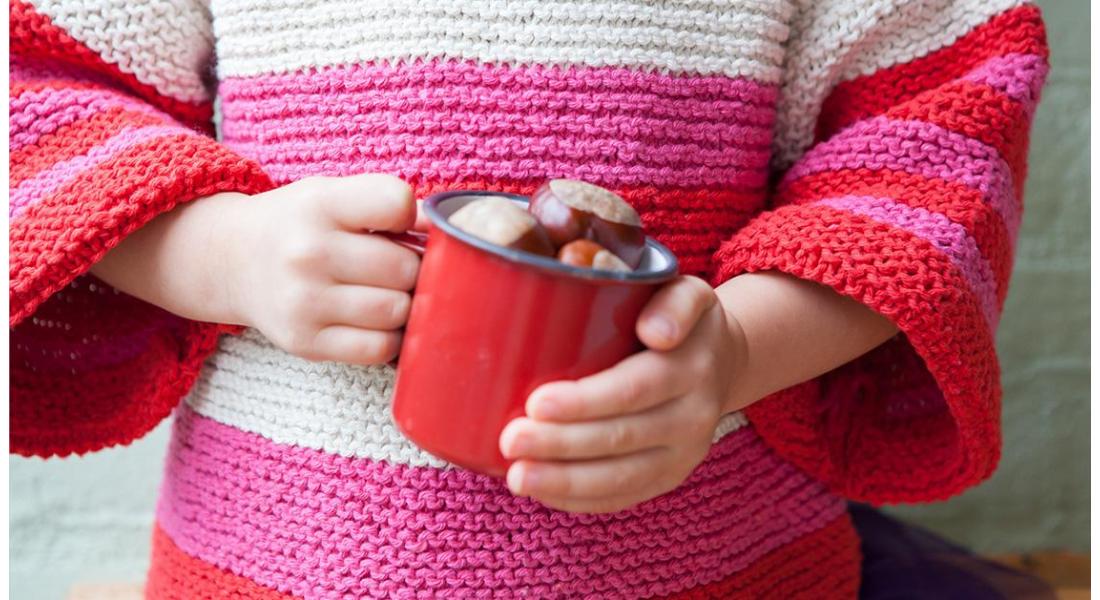 Would you like to knit an easy children's jumper? In this blog you will find the free knitting pattern for a handknitted children's jumper. This striped jumper is easy to knit and a suitable knitting project for anyone with basic knitting experience. It may be easy to knit, but we know one thing for sure: this adorable oversized kids' sweater will make your child look effortlessly cool. The colour-block stripes can be customized according to your taste. Your child will never want to take this sweater off! This knitted children's jumper fits kids 3/4 years old and is perfect for out door activities.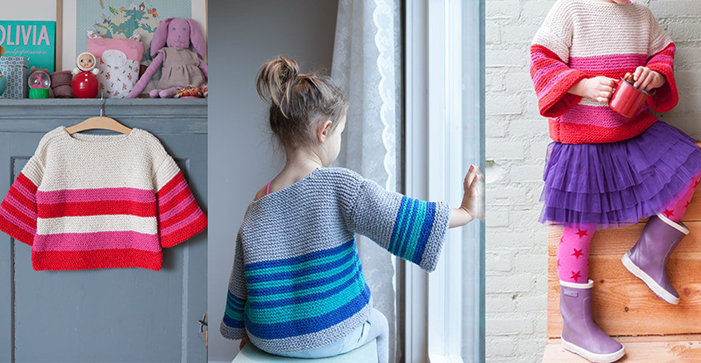 What you need:
Size reference
3-4 years old. The jumper is very easy to adjust to larger sizes, as it is simply knitted straight up without adding or losing stitches per row.
Stitches
Knit stitch
Tension swatch
17 sts to 10 cm measured over garter stitch using 6 mm needles
Before you start, knit a tension swatch to determine your gauge. Stitch ratio: 22 stitches and 46 needles in the garter stitch (all needles knitted straight = 10 x 10 cm (on needles 4 mm).
Before you start
Make sure to test the yarn and make a gauge square before you start. This way you can check the nr of stitches you will need to make the size you have in mind and if the needle you use is suitable to create the correct tension. It can be tempting to skip this part and rush into making the creation. However, we recommend to do it as it will save you time and trouble later on.
Knitting this jumper with other yarns
If you want to knit the jumper with other sustainable yarns, such as Somen or Eucalyps, you will get a totally different stitch ratio. So, make an extra gauge square to calculate the yarn it would require. Would you like to know more about how to calculate yarn for a project? Take a look at our blog on this subject.
Step 1: Knit the front side
Start at the bottom and cast on 62 stitches and knit all stitches in garter stitch until a length of 36 cm (or as long as needed). End with the needle on the wrong side (WS) of the knit work.
Step 2: Neck and shaping
Knit 20 stitches knit stitch, turn and knit 2-3 rows until a total length of 38 cm. End again at the wrong side of the needle and cast off. Cast on (at the good side of the knit work facing) and finish the other side and cast off the middle 22 stitches. Finish row in knit stitch. Turn and knit another 2-3 rows of 20 knit stitches, end on the WS of the knitwork and cast off.
Repeat step 1 and 2 to make a similar back side and shoulder shaping.
Step 3: Knit the sleeves
Cast on 50 stitches and knit garter stitch until a length of 24 cm (or as long as needed). The colour blocks (stripes) can be made according to your own wishes. Cast off the knit work.
Step 4: Join the parts to make the sweater
Turn the knit work inside out and sew back and front together with a sewing stitch. Start at the shoulders. Then you sew in the sleeves with stockinette, making sure the sewing seam is below, so that it corresponds with the side sewing seams of the sweater. Optional: fold the 4 cm of the sleeves and sew this with a whip stitch onto the knit work. Now turn the sweater inside out and bring it to your favorite toddler.
Colour blocking stripes
The colour blocks (stripes) can be made according to your own preference. Here below the colour diagrams of the creations we made.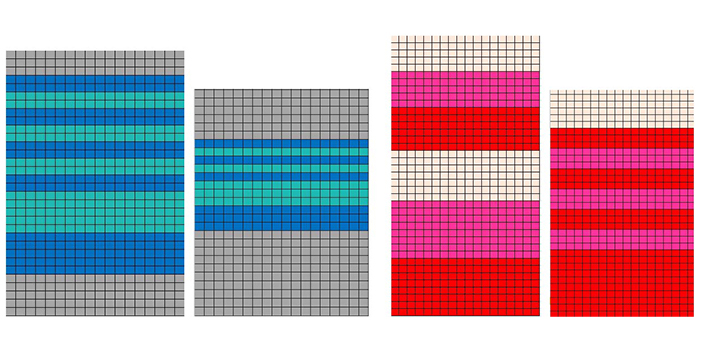 Washing and care
Washing instructions: Turn inside out before washing, this minimizes the risk of pilling on the surface. Gentle wash with 30 degrees Celsius. In order to avoid stretching out, flat drying is important.