---
Join the Sugar Beach Tank Top Crochet Along
Let's crochet together a tank top this summer and bring it to the beach! Learn how to crochet this great project from the super hip Canadian crochet designer Daisy & Dime (Rebecca Dagmar). The design is easy to adapt to your desired size and is suitable for anyone with an intermediate to advanced level of crochet skill!

You will get a free written PDF pattern for the project when buying Hoooked Eucalyps Yarn. Plus, you will find from the beginning of the CAL, video tutorials with step-by-step instructions on Hoooked's YouTube Channel. This way you can learn all the tips and tricks from the designer herself!
Sugar Beach Tank Top is a fun project to do and use at the beach, picnics, or even parties! Join this CAL and do this project together with other Crochet lovers.
#SugarBeachCAL #gethoooked
---
A CAL is a Crochet-Along, where crocheters from around the world come together to make the same pattern at the same time, in the comfort of their homes.
How can I join the CAL and get a free pattern?
To join the Sugar Beach Tank Top CAL and get a free PDF pattern you need to:
Notes:
*The pattern will be added automatically to your Shopping Basket, for free, from now and until the end of the CAL (August 31st 2023) when buying the minimum quantity of yarn for the XS size = 300gr of Eucalys Hoooked Yarn.

The pattern is a complete download file with text and illustrations in the languages English (UK and US crochet terms), Dutch, German, Spanish and French. You will receive a separate email with instructions on how to download this pattern.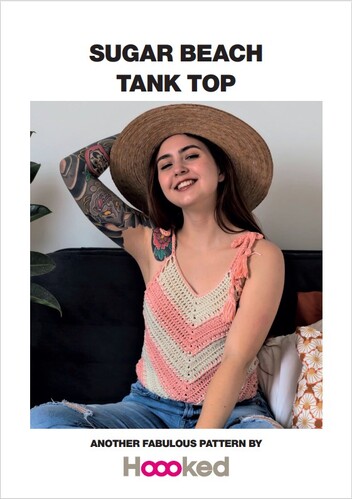 ---
During the crochet along, following the written pattern and with the help of the video tutorials, you will learn the following techniques:
Shaping a V-neckline

Advanced crochet stitch (Front/Back Post Treble, also known as Raised Treble Front/Back)

Changes colour/yarn and carry it throughout the work

Work on the front and back loop of a stitch

Lengthening the top to your taste

Making smaller or bigger sizes

How to sew the 2 parts together

Making the edging

How to make the finishing details

How to make tassels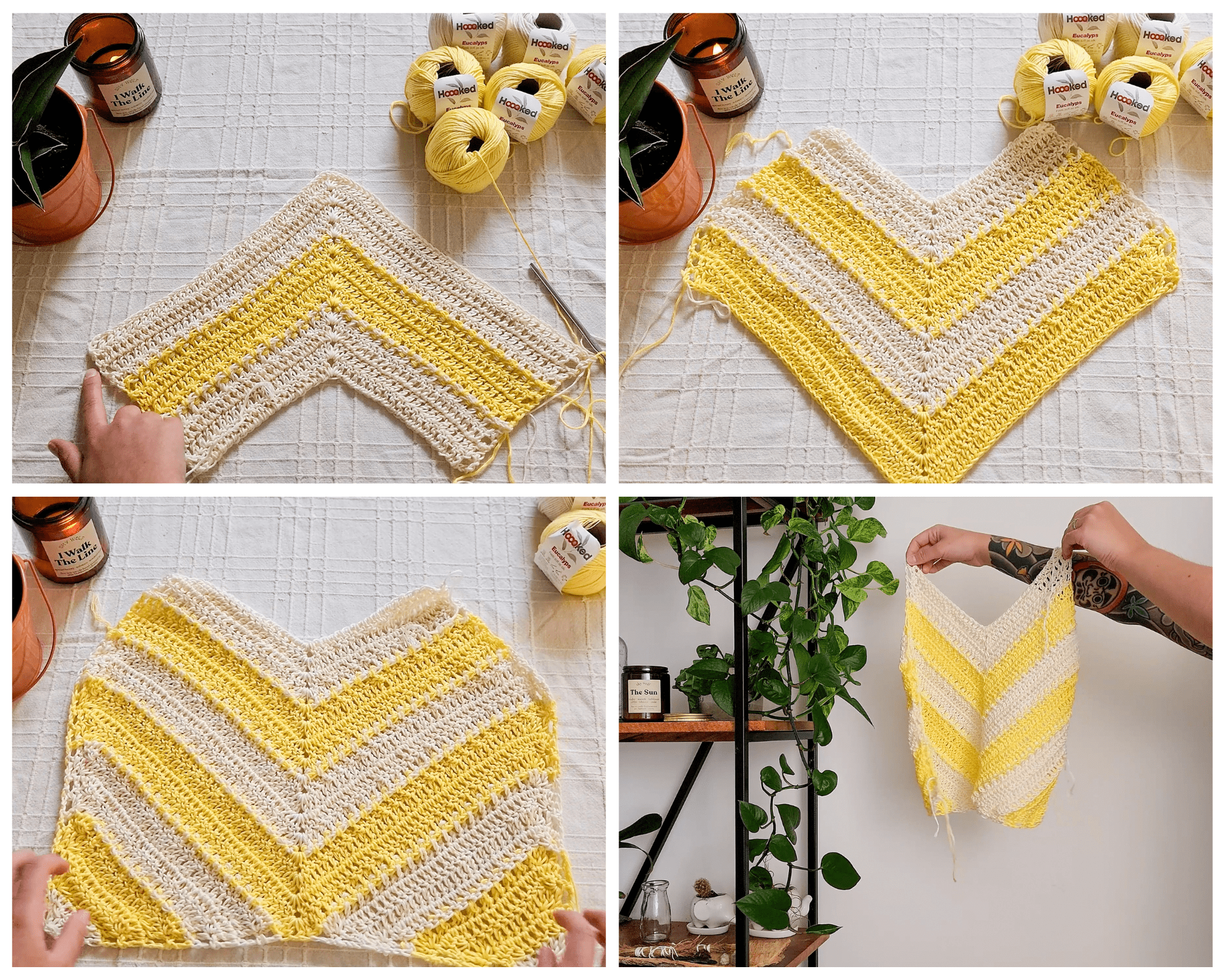 ---
Take note of the following dates:
Until Aug 7th: Order your favourite Eucalyps yarn colours to get the free pattern and watch first video – introduction, gauge and sizing
Aug 7th: Second part release – shaping the V-Neckline
Aug 11th: Third part release – lengthening the Top
Aug 14th: Fourth part release – finishing the Left and Right Corners
It's time to crochet the second panel!
Aug 21st: Fifth part release - finishing the top: seaming, neckline edging and straps, tassels; bottom edging, weaving in ends, blocking.
Aug 30th: Sharing and Inspiring Challenge (final photo/video share)
Aug 31st: Challenge Winner Announcement and Contact
---
---
Which materials do you need?
To crochet the Sugar Beach Tank Top you will need to add to your basket the amount of yarn you need, in your favourite colours. Choose a colour A, and a colour B. Check your size and the amount of yarn on the chart below.
Materials:
○ Colour A - 200 (200, 300, 300, 400) grams
○ Colour B - 100 (200, 300, 300, 400) grams
Size
XS
S
M
L
XL
Length
(excluding tie straps)
34 cm
34 cm
42 cm
42 cm
50 cm
Bust
40 cm
44 cm
48 cm
52 cm
56 cm
Eucalyps yarn needed

A: 200g

B: 100g

A: 200g

B: 200g

A: 300g

B: 300g

A: 300g

B: 300g

A: 400g

B: 400g
---
Eucalyps is a soft and silky plant-based yarn with a beautiful, subtle sheen. Like our other yarns, Eucalyps is a sustainable choice for knitters and crocheters.
We only use eucalyptus trees from sustainably managed European forests, and the environmentally friendly yarn production process takes place in a closed loop: the raw materials used are also reused.
But Eucalyps isn't just great for the environment: this plant-based yarn is beautiful, luxuriously soft, and highly absorbent. That makes this yarn ideal for crafting clothes!
Our Eucalyptus Yarn is available in 14 colours and sold in individual balls of 50 grams (83 meters) and 100 grams (165 meters).
Eucalyps is machine washable at low temperatures and is therefore suitable for everyday use. Washing instructions: wash at low temperatures and with similar colours. We recommend handling your delicate and handmade creations with extra care.
Colour combinations ideas
You can choose your colour combination or follow Becks 's and Hoooked's Team suggestions.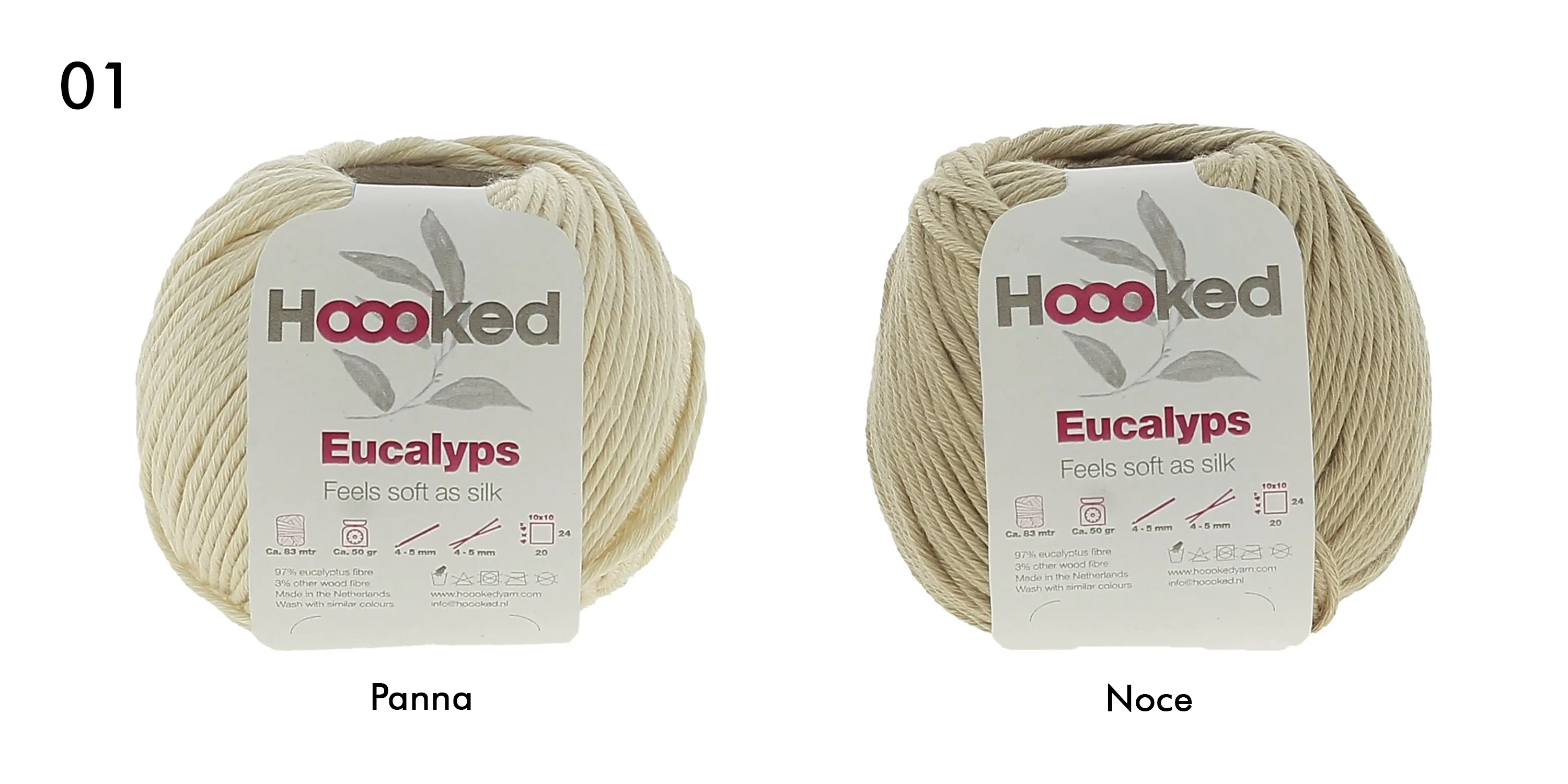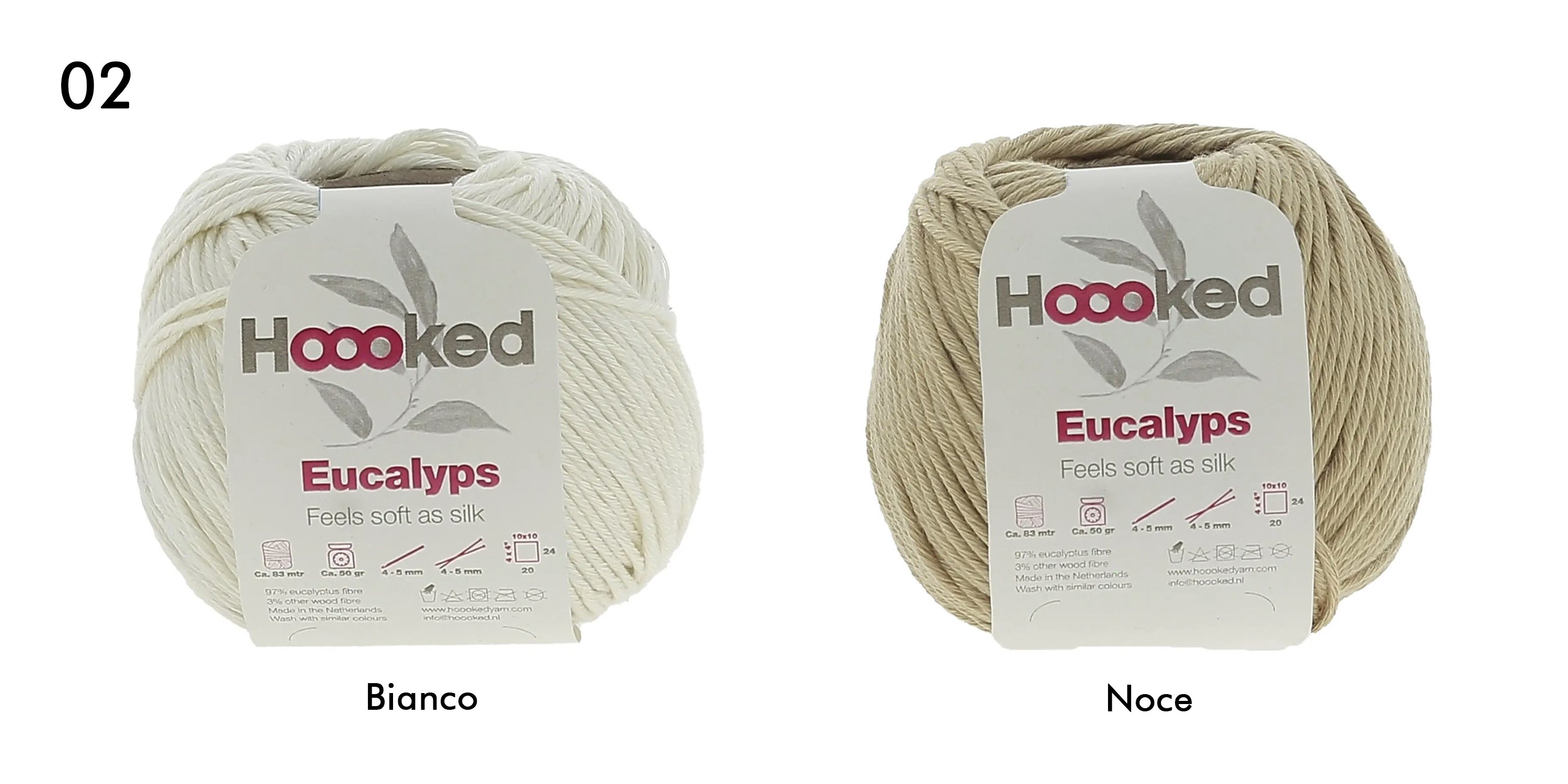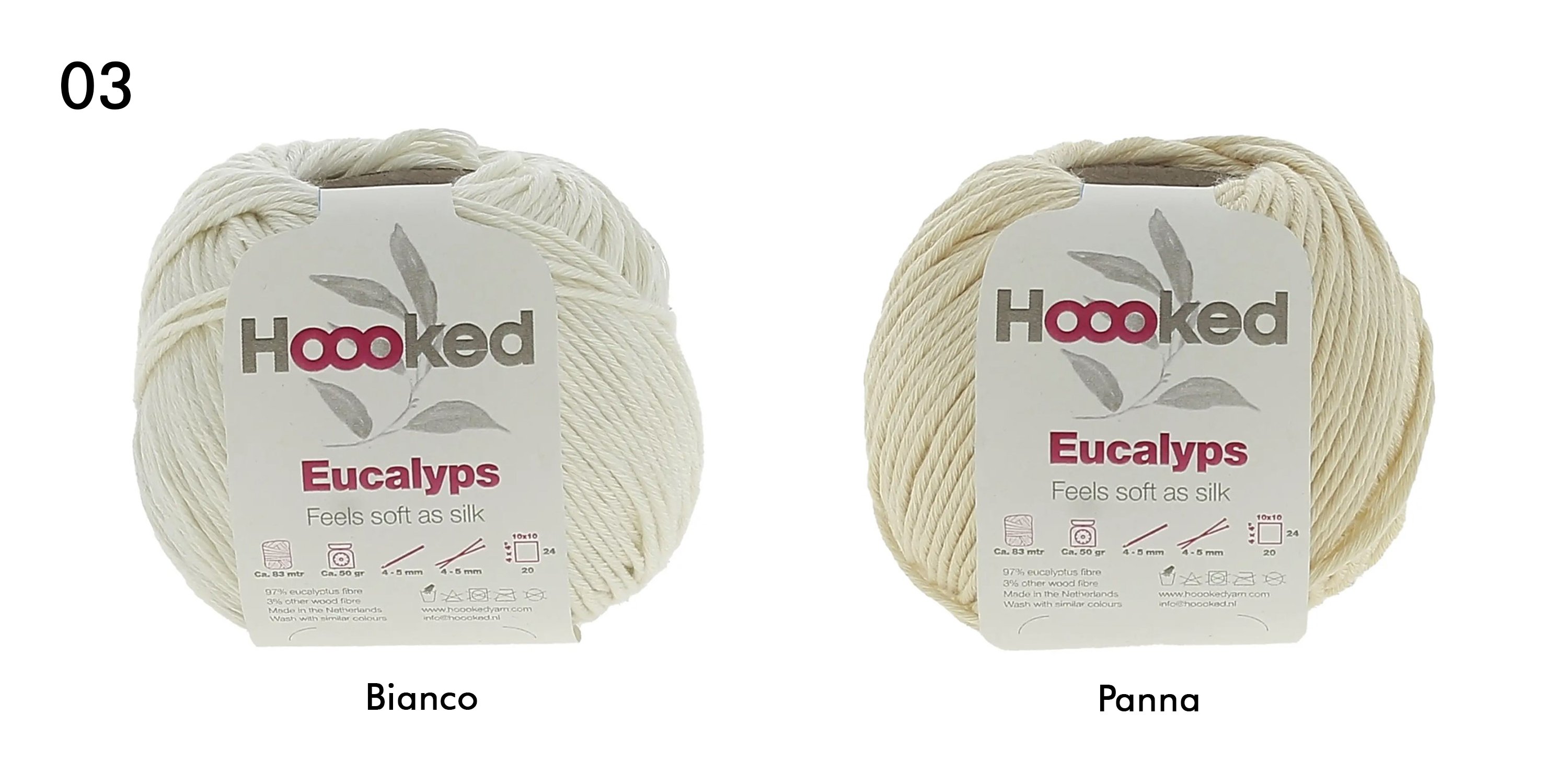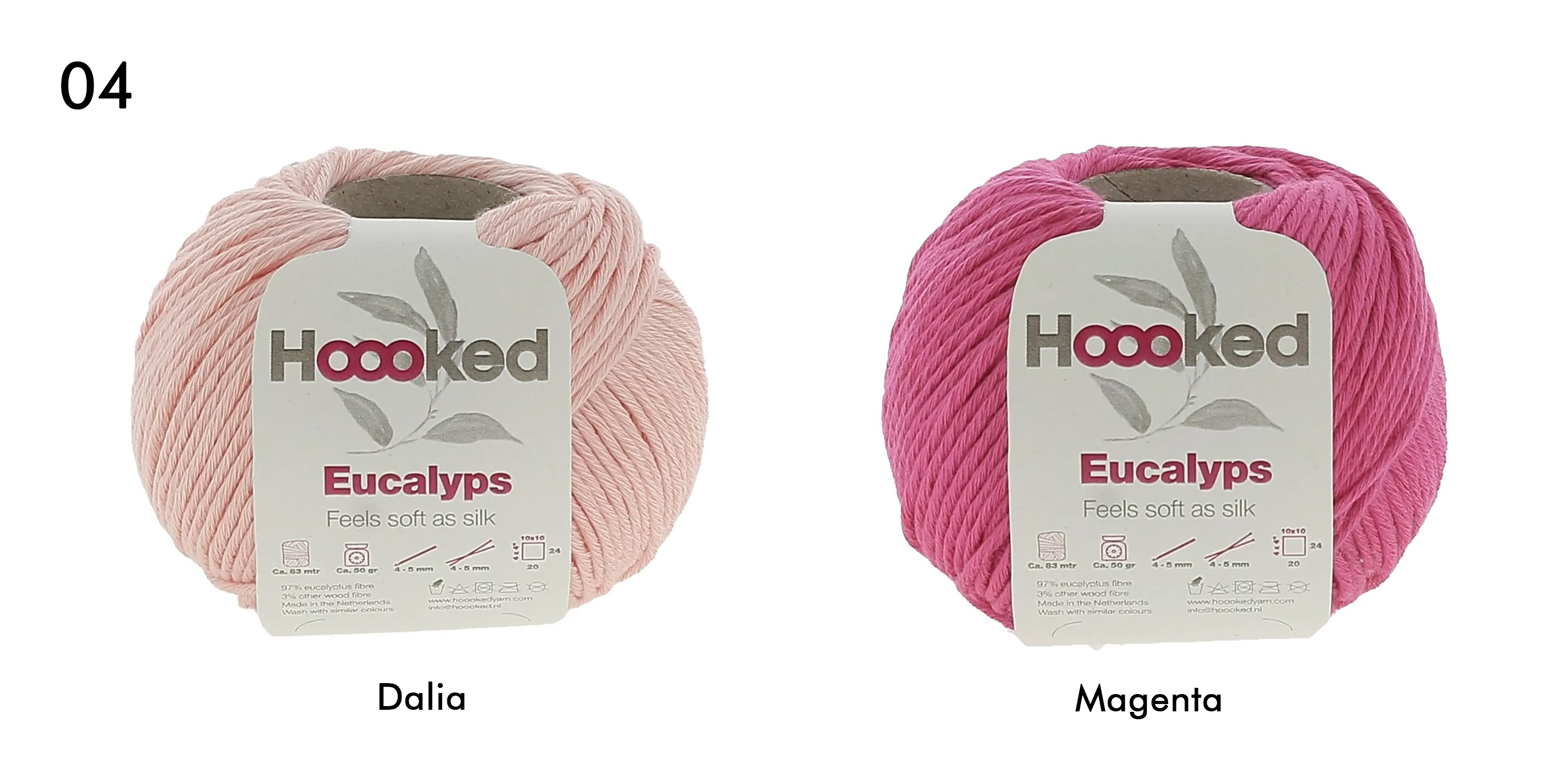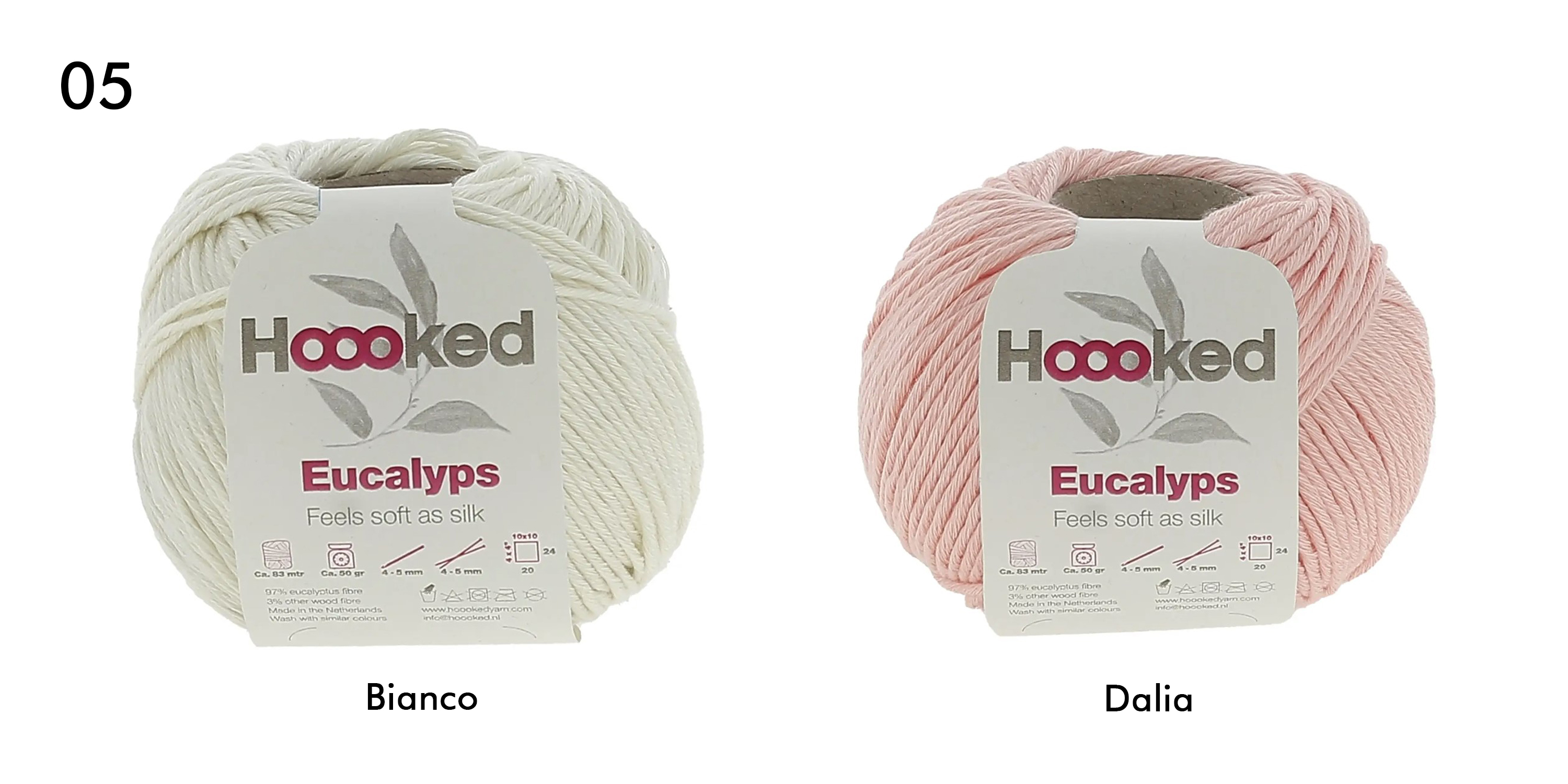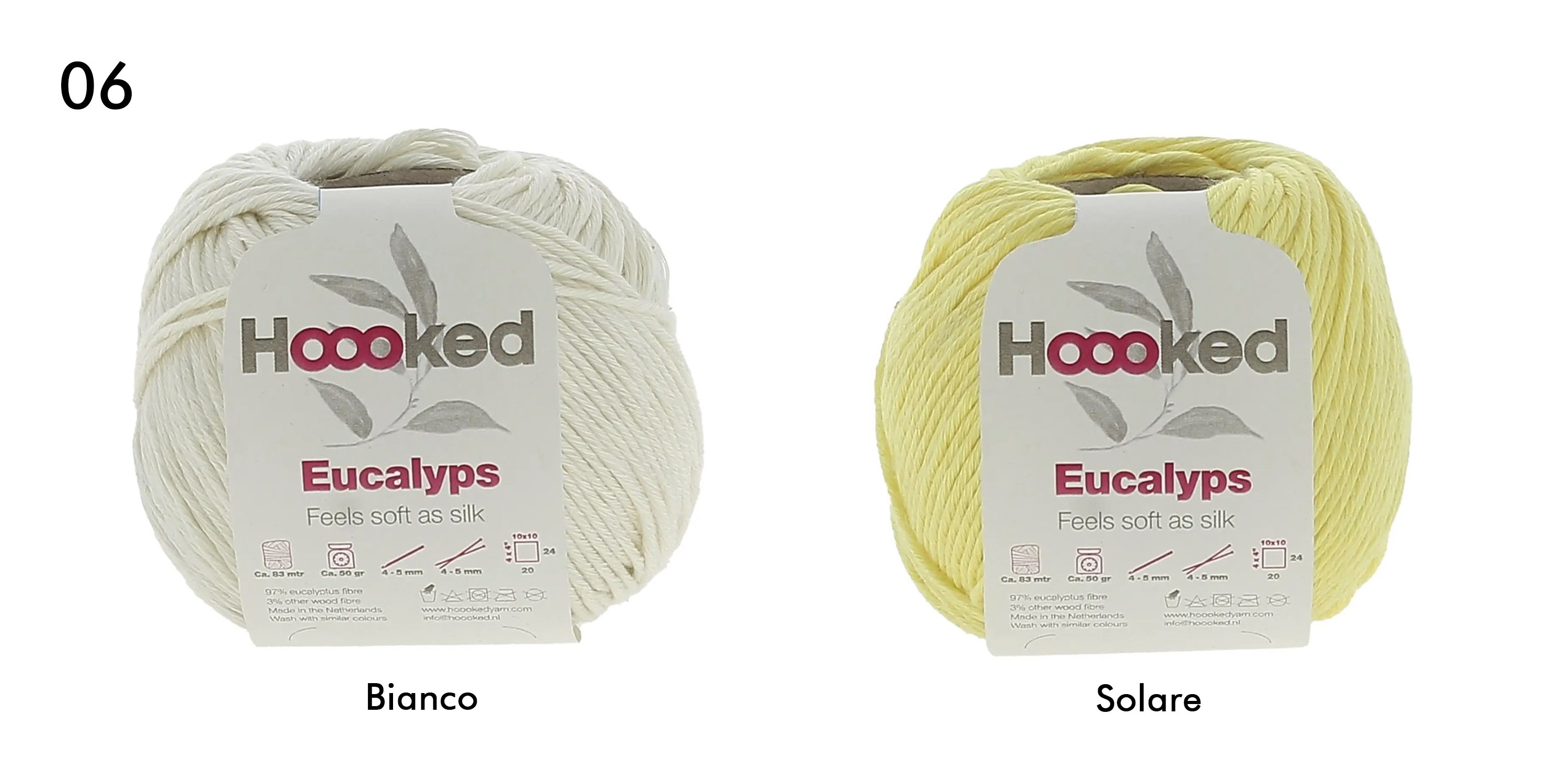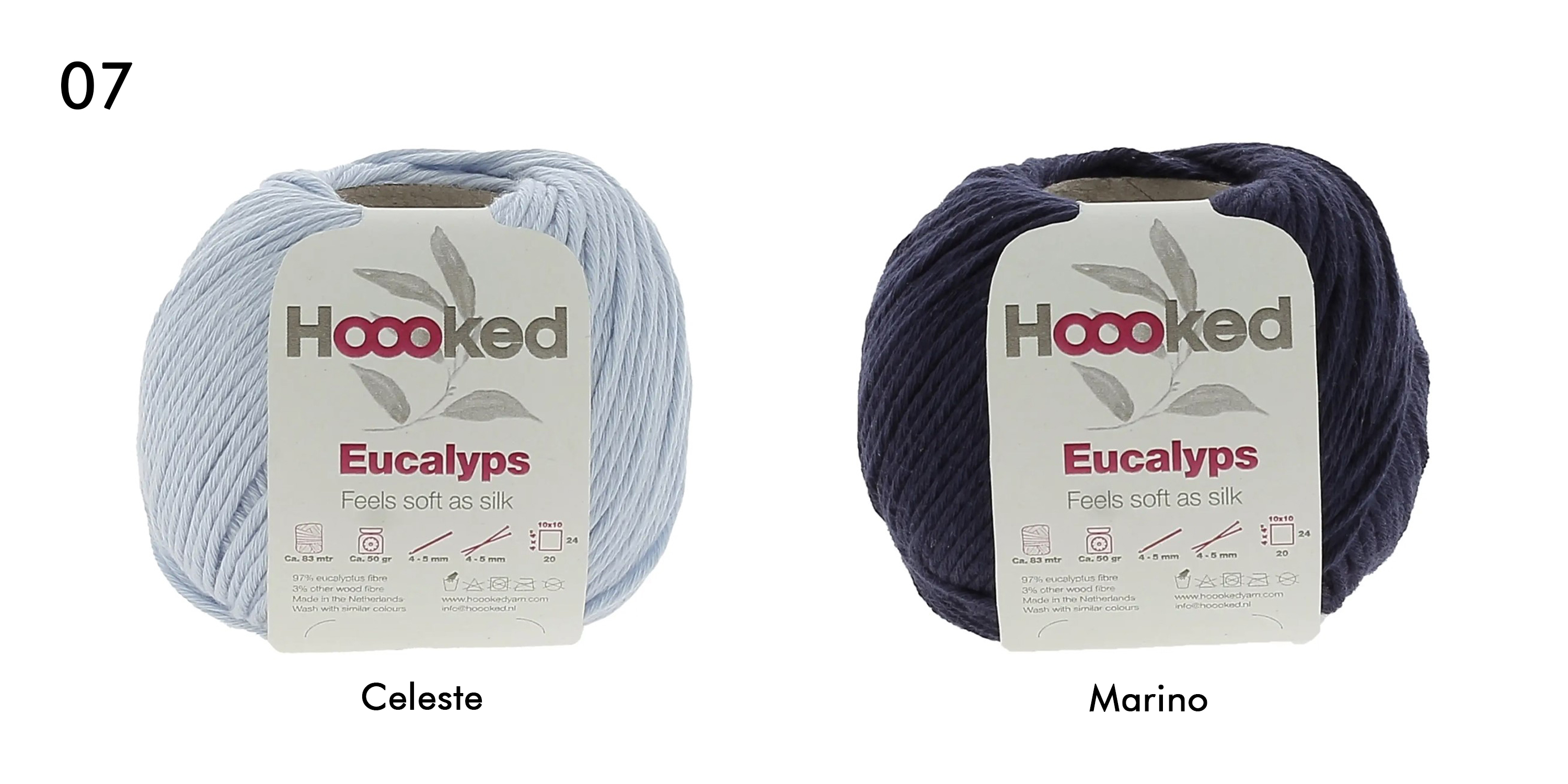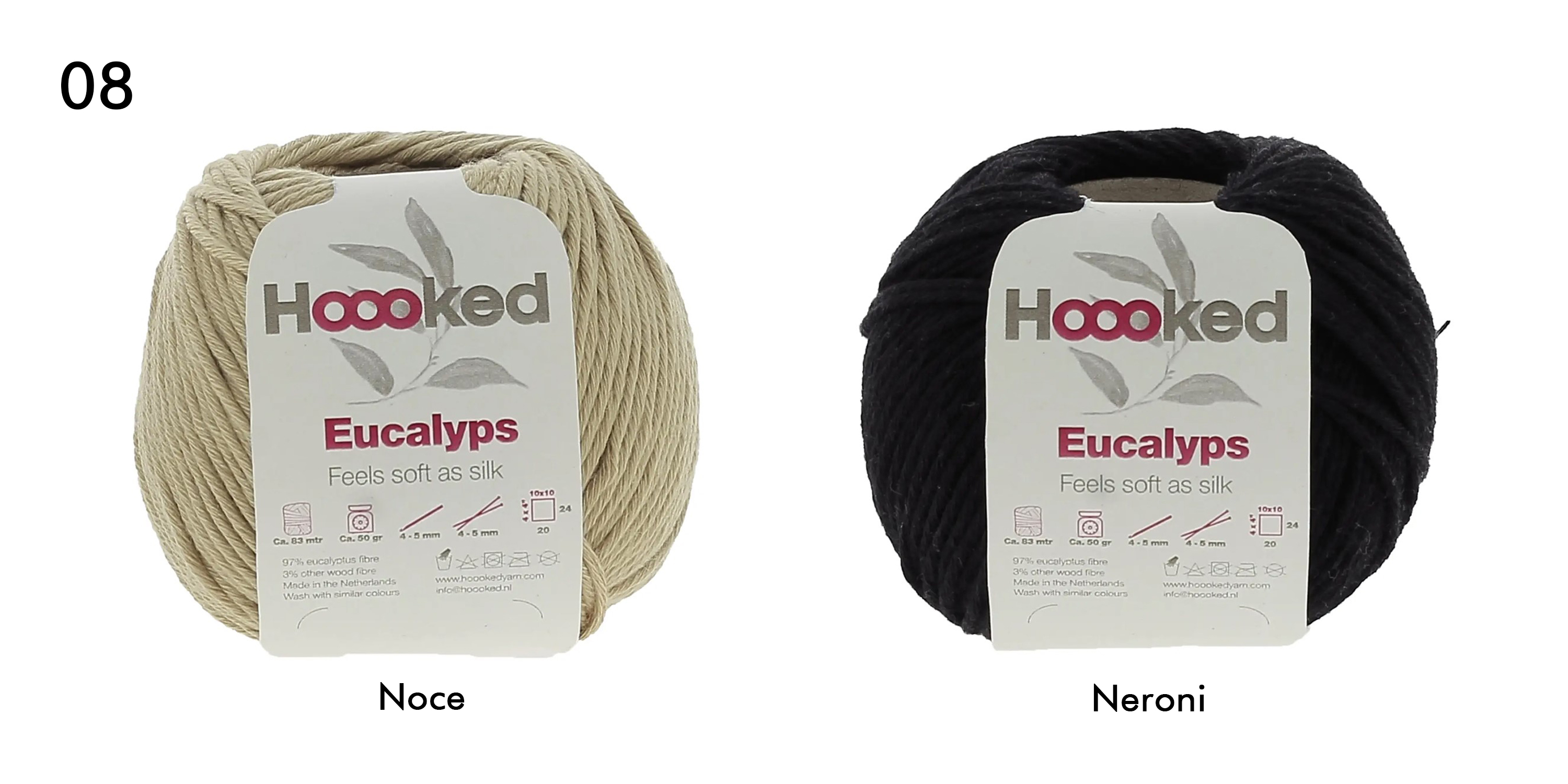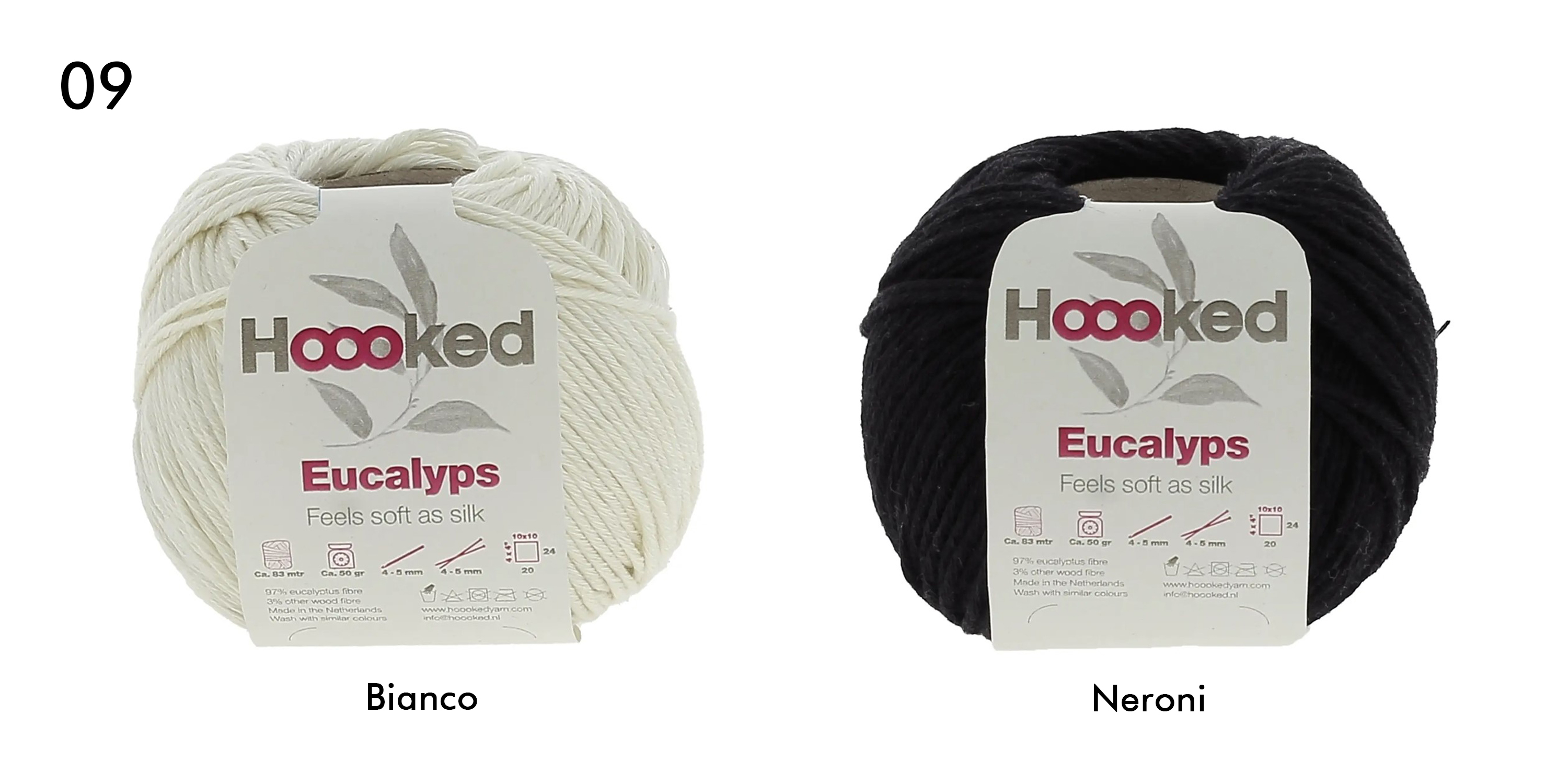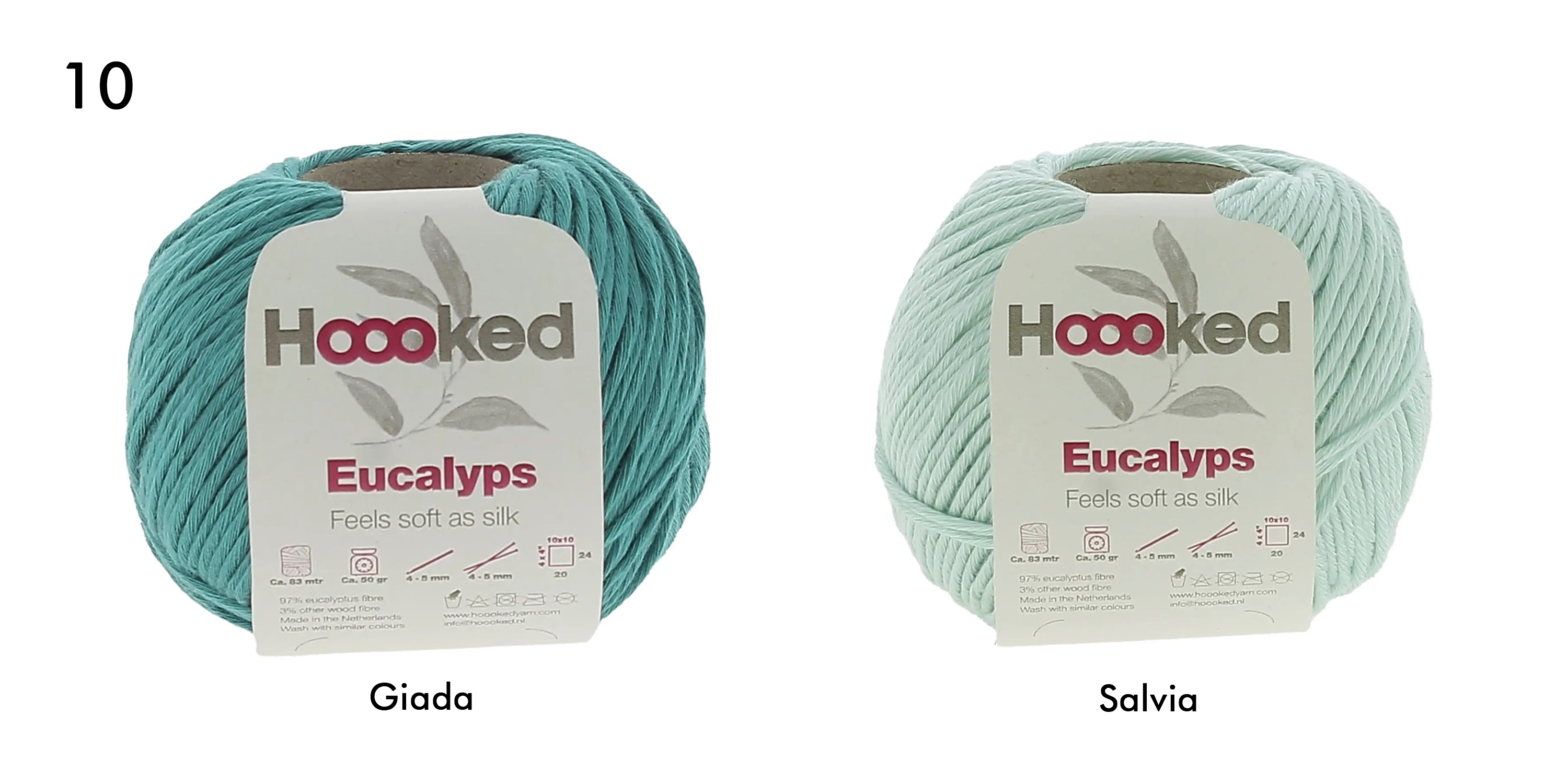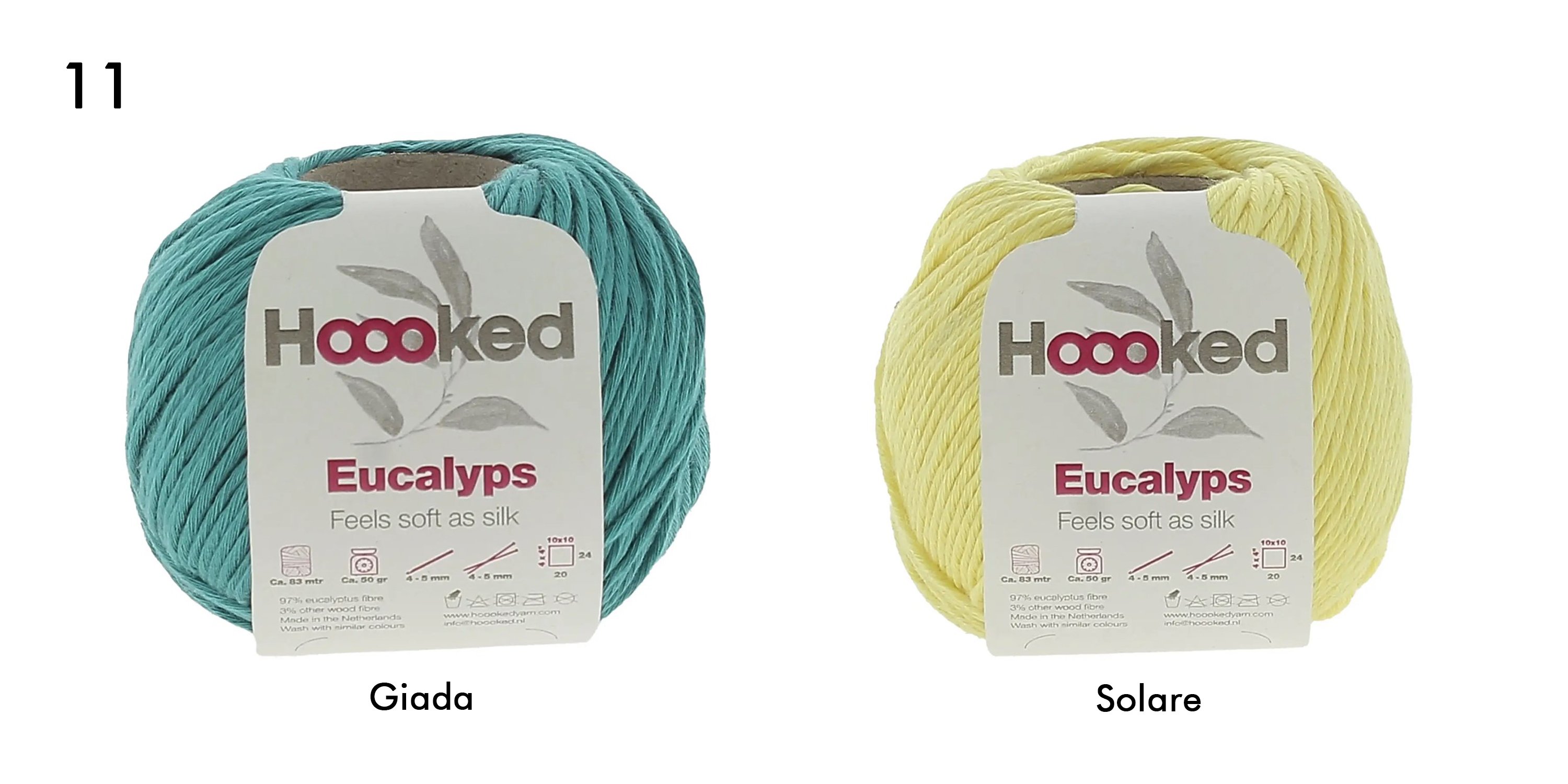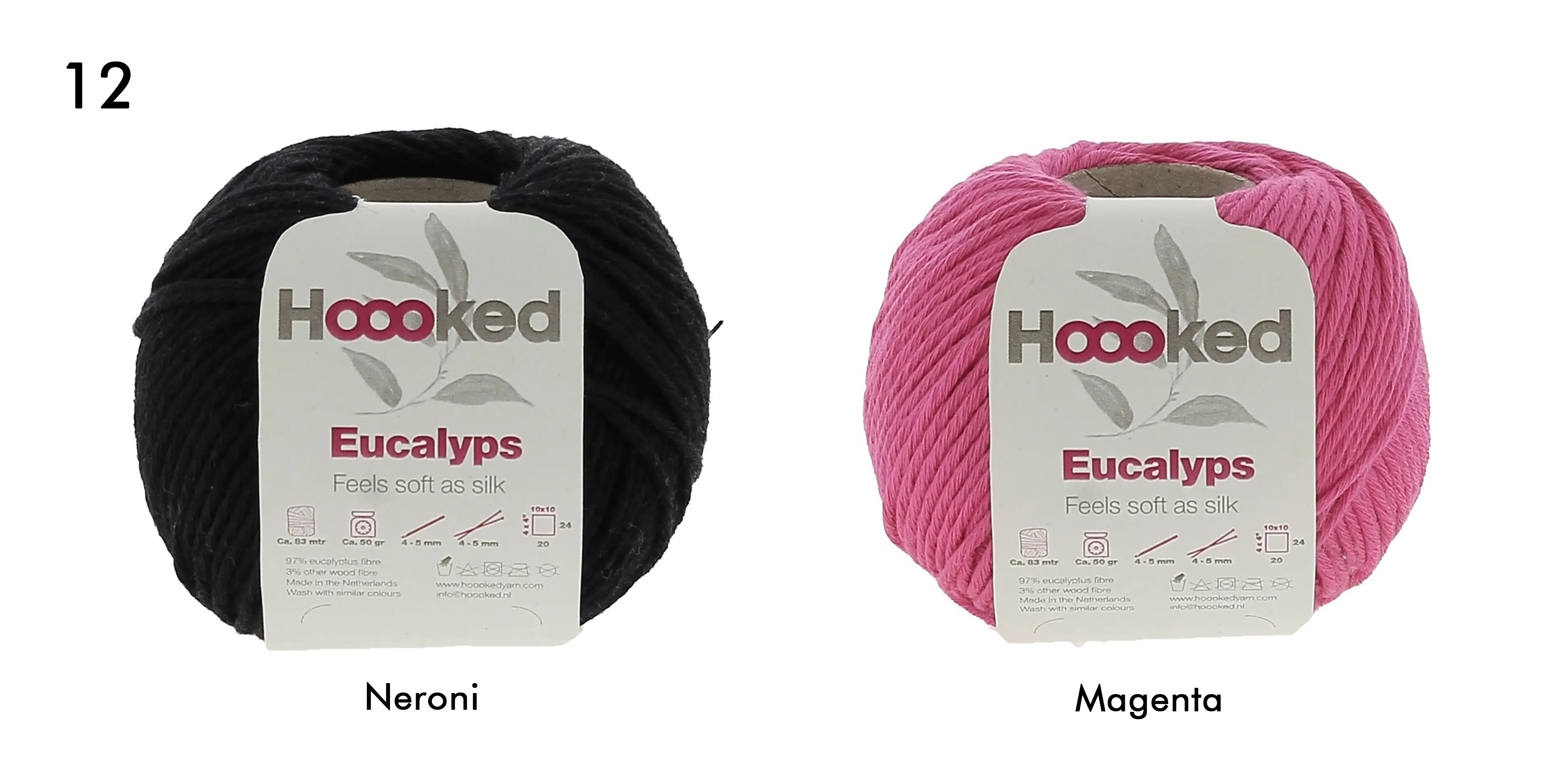 ---
---
Sharing and inspiring Challenge!
You can be the winner of the challenge. Take the chance of winning a 50€ voucher to spend on our website! All you need is to share photos of the project on social media: unboxing, process or anything you like about the project, made with Hoooked yarns. The final share of photos or videos must be made on Aug 30th to celebrate the end of the CAL.
To share use always the hashtags #SugarBeachCAL #gethoooked and identify @hoooked.zpagetti
Our team will choose the winner and announce it on Aug 31st. We will value creativity, using Hoooked yarns, and being inspirational.
Do you accept the Challenge? We hope so! It will be so much fun to see it all! And the best… Winning 50€ to spend on yarns and accessories!
---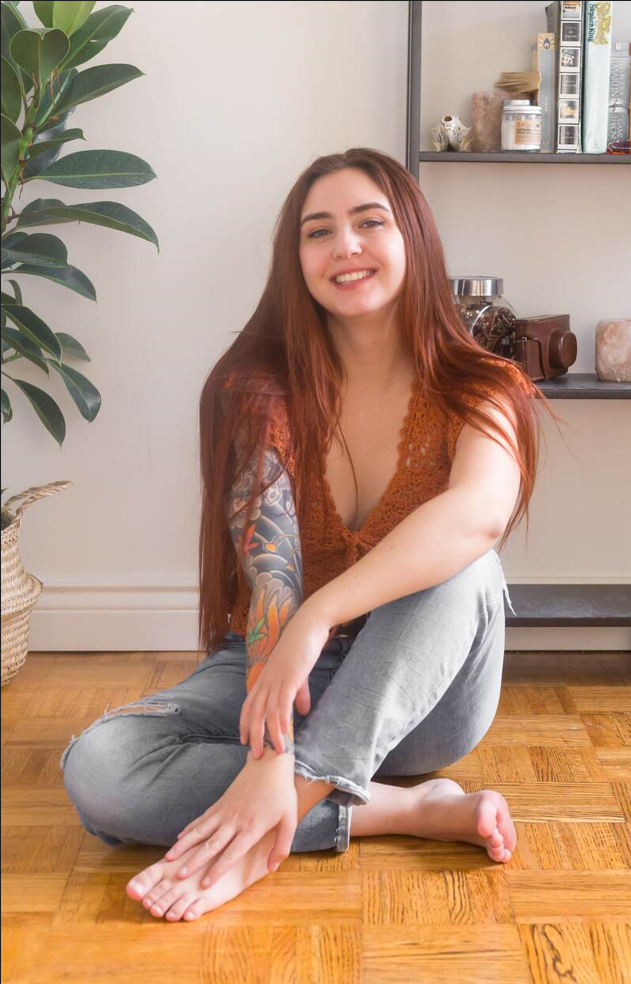 Rebecca Dagmar @shopdaisyanddime
Rebecca Dagmar aka Becks is an independent crochet designer based in Toronto, Canada. Inspired by neutral and earthy colours, timeless silhouettes, and geometric patterns, she strives to create patterns that are as functional and stylish to wear as they are fun to make. Rebecca cares deeply about slow fashion and finding ways to reduce her ecological impact, so she strives to work with biodegradable, natural, and sustainable materials whenever possible. When she's not crocheting or designing patterns, she enjoys hiking, camping, baking, and spending time with her dog and cat, Loki and Odin.
#SugarBeachCAL #gethoooked
---
---