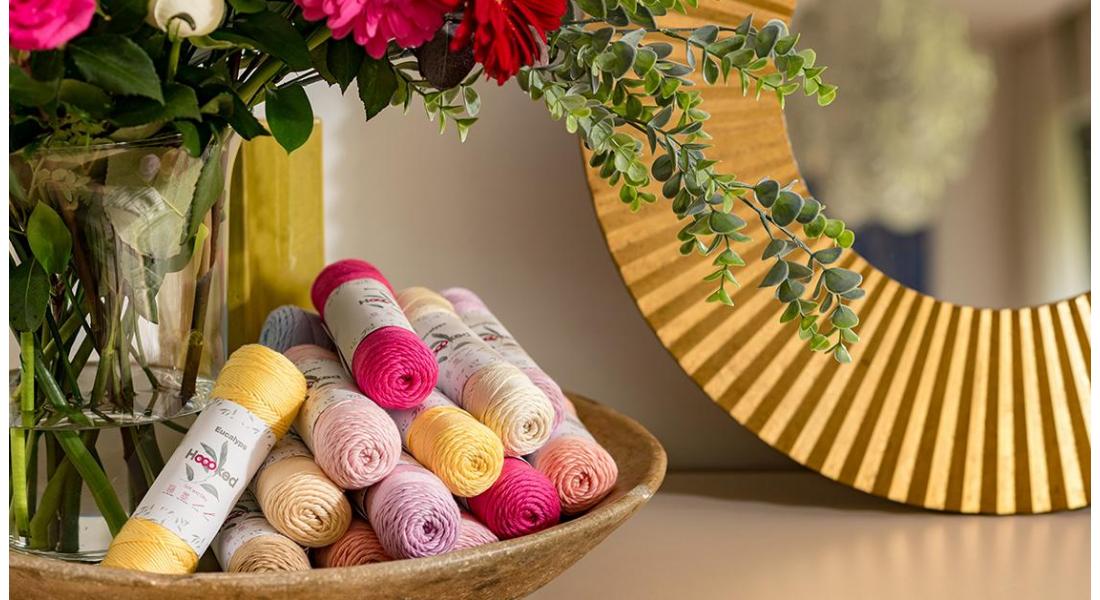 In this blog we will tell you all about our different vegan yarns. You will find out more about the different origins and characteristics of these sustainable yarns, so you know what to expect when you are thinking about crafting a project with one of these yarns!
100% Natural Jute from small farmers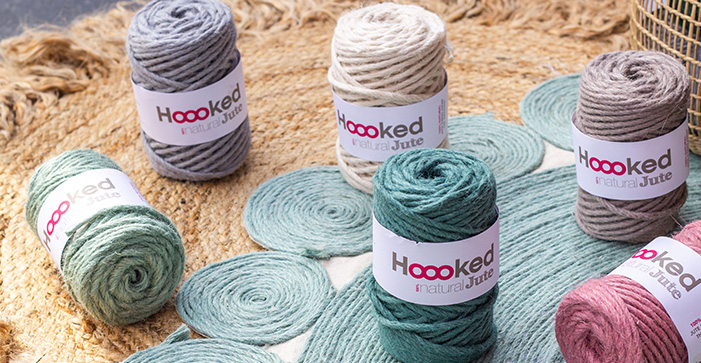 This yarn is the first Hoooked yarn that does not have its origin in recycling. Although it is not a recycled yarn, this yarn is very sustainable. The idea for this yarn originated during a trip to Brazil. Here we discovered that Brazilian jute is grown in the Amazonian rainforest and cultivated by small farmers, united in a cooperation. The main purpose of this cultivation is to make jute bags for transporting coffee beans. We wanted to use this beautiful natural fibre for our yarn and so we did!
This fair-trade jute is produced by a BCS-certified, sustainably operating family business in Brazil. This jute is produced while leaving the forest and natural vegetation intact, no logging is need. Jute is a sturdy 100% vegetable fibre and offers a wide range of crafty possibilities for indoor and outdoor projects, such as macramé plant hangers and crochet mural hangers. It's natural properties ensure a fully biodegradable final product. Our jute collection comes from the Amazons and is available in a range of six toxic-free (non-Azo) pastel colours.
Hoooked Natural Jute yarn is quite sturdy and is therefore suitable for rustic creations such as rugs and crochet baskets. Are you looking for a free pattern with jute? Then take a look at our blogpost with a free pattern for a crochet doormat!
Somen: A cool and airy yarn from recycled cotton with flax (linen)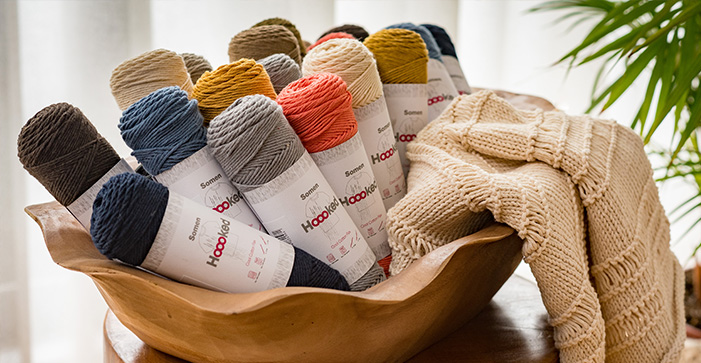 Somen is cool and airy, making it a great plant-based yarn for knitting and crocheting clothing and fashion items. Somen is made by combining recycled cotton with sustainably grown flax, creating a soft but strong thread. Textile waste is shredded and combined with linen fibres to create a cotton-linen yarn that is perfect for crafting summer clothes. Hoooked Somen is available in 14 beautiful earthy colours, so there is always a colour or colour combination that works for your project! We recommend using 4-5 mm knitting needles or crochet hooks to craft beautiful fashion items, accessories, baby clothes and more. Please note: Hoooked Somen is sold in individual bobbins of 165 metres (100 grams), so make sure to select enough for your project! If you are looking for ideas on what to make with Somen, take a look at our Somen pattern collection!
Eucalyps: Silky fibres from Eucalyptus trees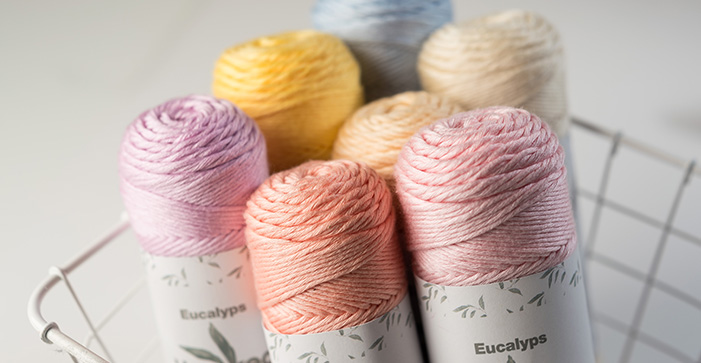 Eucalyps is a soft and silky plant-based yarn with a beautiful, subtle sheen made from left over fibres from the harvesting of Eucalyptus tree for European paper production. Like our other yarns, Eucalyps is a sustainable choice for knitters and crocheters. We only use eucalyptus trees from sustainably managed European forests, and the environmentally friendly yarn production process takes place in a closed loop: the raw materials used are also reused. But Eucalyps isn't just great for the environment: this plant-based yarn is beautiful, luxuriously soft, and highly absorbent. That makes this yarn ideal for crafting clothes, baby makes and subtle accessories! Our eucalyptus yarn is available in 14 colours. Eucalyps is sold in individual bobbins of 165 metres (100 grams). For the best results, use 4-5 mm crochet hooks or knitting needles!
Check out our free pattern for a cute rainbow hanger or check out this cute crochet kit for a unicorn lovey made with soft Eucalyps!
Want to know more about how we recycle yarn? Check out our blog on how we recycle cotton yarns! Or check out one of the other blogs with free patterns and information on crochet, knitting and macramé!