Are the kids hanging around the house bored and uninspired? Time to put the smartphones away and get creative! This is a nice and small DIY present for someone who is always looking for their keys. This crafting project is easy to do with a small group of children and an ideal (and affordable) activity for a rainy afternoon! By knotting onto a key ring, you train the fine motor skills of younger children and at the same time you challenge older children to come up with beautiful colour combinations. This blog is based on the basics of the scoubidou technique, once you've mastered the basics, you can vary and make new knotting combinations!
What do you need?
Leftovers of Zpagetti and other slightly elastic super chunky yarns can be braided and knotted to make colourful cords to hang from keyrings, bags or baskets. Zpagetti T-shirt yarn is sturdy elastic and washable, so a perfect choice for this small DIY project. Just join a few yarn scraps and some keyrings and you are good to go!
Freshing up your Scoubidou skills
A lot of people will remember the scoubidou mania of a few years ago. This easy knotting technique is perfect for Zpagetti. The easiest way to start is by tying two longer Zpagetti threads together in the middle or by folding them through a keyring. Then you can knot the four Zpagetti threads using the scoubidou technique.

Step 1:
Fold two Zpagetti threads through the ring (see detail picture below).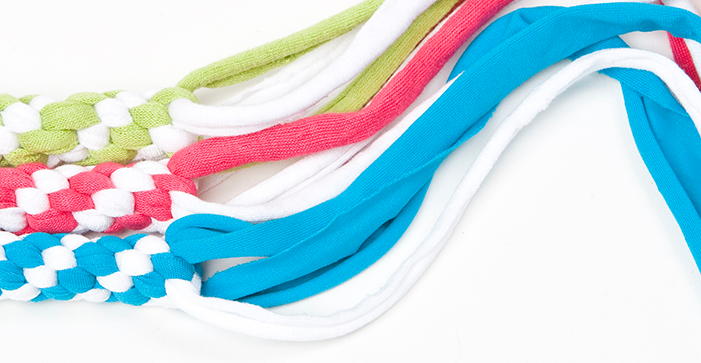 Step 2:
Spread the four ends of the Zpagetti threads from north to south and from east to west.
Step 3:
Make a loop of the two vertical Zpagetti wires. With wire 1 you make a loop down, with wire 2 you make a loop up.
Step 4:
With thread 4 you go from right to left over thread 2 and braid through the green loop of thread 1. With thread 3 you go over thread 1 and braid through the loop of thread 2. This looks complicated, but the drawing below makes a lot clear.

Step 5:
Now pull all the Zpagetti threads simultaneously (and tightly) to create ato get a nice flat surface. Repeat step 4 and step 5 until the knot cord is long enough for your project. Now tie off. Pull the wires very tight and cut them off.
Your first scoubidou key chain is ready!