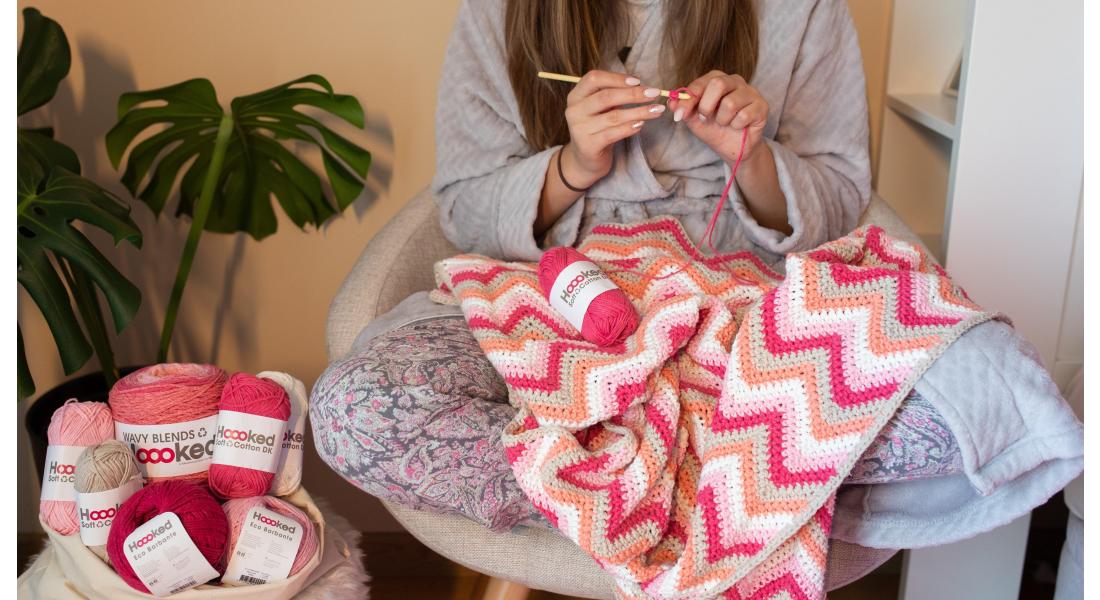 1 in 7 women is diagnosed with breast cancer. Breast cancer is the most common type of cancer in women. There is a big chance that you are (or will be) affected directly or indirectly by this disease. Pink Ribbon is there, especially for all these women. Pink Ribbon raises money for projects and research to prevent breast cancer and to better treat it. In addition, Pink Ribbon is committed to making life after breast cancer as pleasant as possible. An important goal that is close to our hearts and that we have chosen to support again this year.
Buy Hoooked Pink and support Pink Ribbon
Do you want to help us support Pink Ribbon? Then choose Hoooked Pink! Until January 14, 2022, we donate 15% of the retail price of all Hoooked pink products (yarns, kits, and accessories) to Pink Ribbon. Do you want to know more? Then please have a look at our campaign web page at Pink Ribbon. Here you will find all the information about Hoooked's donation program for Pink Ribbon.
Pink Ribbon special: Pink Ripple Chevron Blanket
Scientific research has shown that DIY projects such as crochet, knitting and macramé have a calming and relaxing effect. These activities reduce anxiety and stress. By allowing yourself to be creative, you're taking your mind of whatever's been bothering you. By focusing on the repetitive motions of individual stitches your mind is able to be more relaxed and freer from anxious ideas and thoughts. At the same time, DIY allows you to create beautiful, functional items that you can use, offer or even sell. What a great way to battle the blues! Especially for this fund-raising campaign supporting Pink Ribbon, we have designed a DIY crochet kit for a pink blanket with chevrons. This basic crochet chevron design is a great project to practice chevron stitches and to support a good cause at the same time. Hoooked donates 35% of the retail price of this crochet kit to Pink Ribbon. Do you have enough yarn stash at home, but still want to help us with a small contribution to Pink Ribbon? Then downloading our DIY crochet pattern is a great alternative
Free crochet pattern pink ripple cushion cover
Can't wait to get started with chevron crochet? With the free pattern instructions below, you can already start crocheting! This is a free pattern for a crochet cushion that perfectly matches the previously mentioned DIY crochet kit for the Pink Ripple Chevron Blanket.
Dimensions of the cushion: 60 x 40 cm (around 16 x 24 inches).
Materials:
2 x 50g. Soft Cotton DK Jaipur Rose
2 x 50g. Soft Cotton DK Ibiza Ivory
2 x 50g. Soft Cotton DK Sevilla Peach
2 x 50g. Soft Cotton DK California Sand
2 x 50g. Soft Cotton DK Valencia Pink
Crochet hook 5,5 mm
(Measuring tape and darning needle)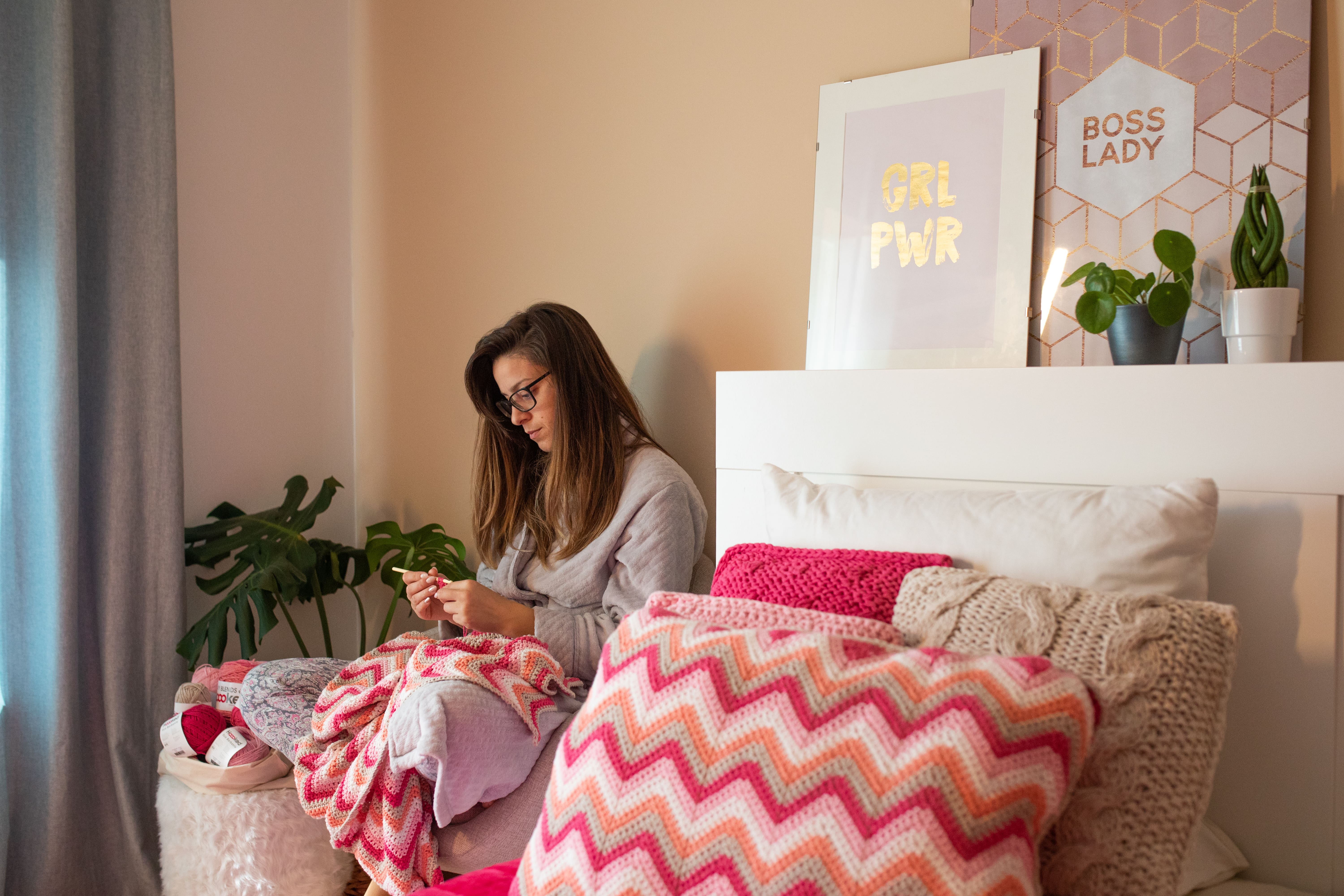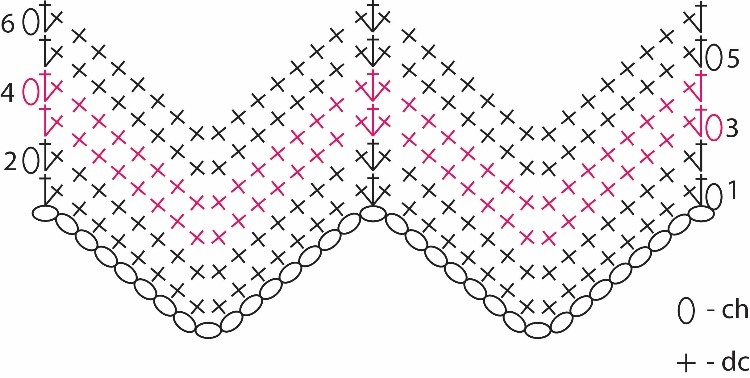 Crochet chevrons: a brief introduction
Chevron aka ripple stitches are made by working corners at 2 repeated points in the crochet work. The peak is where you are increasing the stitches and the valley is where you decrease the stitches. The total number of stitches remains the same throughout. For clarification we have inserted a crochet diagram. We hope this helps you to crochet and practise the chevron stitch.
Step 1: Crochet chevrons
Start with Jaipur rose and make a foundation chain of 96 + 2.
Row 1: (RS- Jaipur Rose); work 2 dc into the 2nd chain from the hook *1dc in each of the next 7 stitches, skip 1 stitch, 1 dc in each of the next 7 ch, 3 dc in the next stitch*, repeat row out (until you have 9 peaks and valleys) omitting 1 dc at the end of the last repeat, turn (96).
Row 2: chain 1, work 2 dc in 1st stitch, *1 dc into the next 7 stitches, skip 2 stitches, 1 dc in the next 7 stitches, 3 dc in the next dc*, repeat *…* row out, omitting 1 dc at the end of the last repeat, change colour to Ibiza Ivory in the last yarn over and turn.
Check point: After 2 rows you should check if you have a width of around 82- 85 cm. if you have a different width this is the time to adjust it! If you work to loosely you will need a lot more yarn and if you work to tight, the blanket will become smaller and will have less drape.
Row 3-4: (Ibiza Ivory) repeat row 2, change colour to Sevilla Peach.
Row 5-6: (Sevilla Peach), repeat row 2, change colour to California Sand.
Row 7-8: (California Sand), repeat row 2, change colour to Valencia Pink.
Row 9-10: (Valencia Pink), repeat row 2, change colour to Jaipur Rose.
Row 11-end: Repeat the colour sequence (each colour 2 rows) until your crochet works reaches a height of 40 cm. We completed 38 rows for this height. Fasten off with a sl.st. Weave in all ends.
We will now fill up the peaks and valleys in the top and bottom row in order to create a rectangular shape. This we do by crocheting triangles. On the upper row on the right (RS), join Valencia Pink and crochet the outer right triangle by decreasing each row by 1 stitch at the start and at the finish of the row, until you have 1 stitch left. Repeat this on the upper row on the left side and then on the bottom rows. Join again with Valencia Pink and fill the rest of the triangles by decreasing each row by 1 stitch (first and last) and crocheting stitches together in the middle. Crochet a second crochet panel of the same size.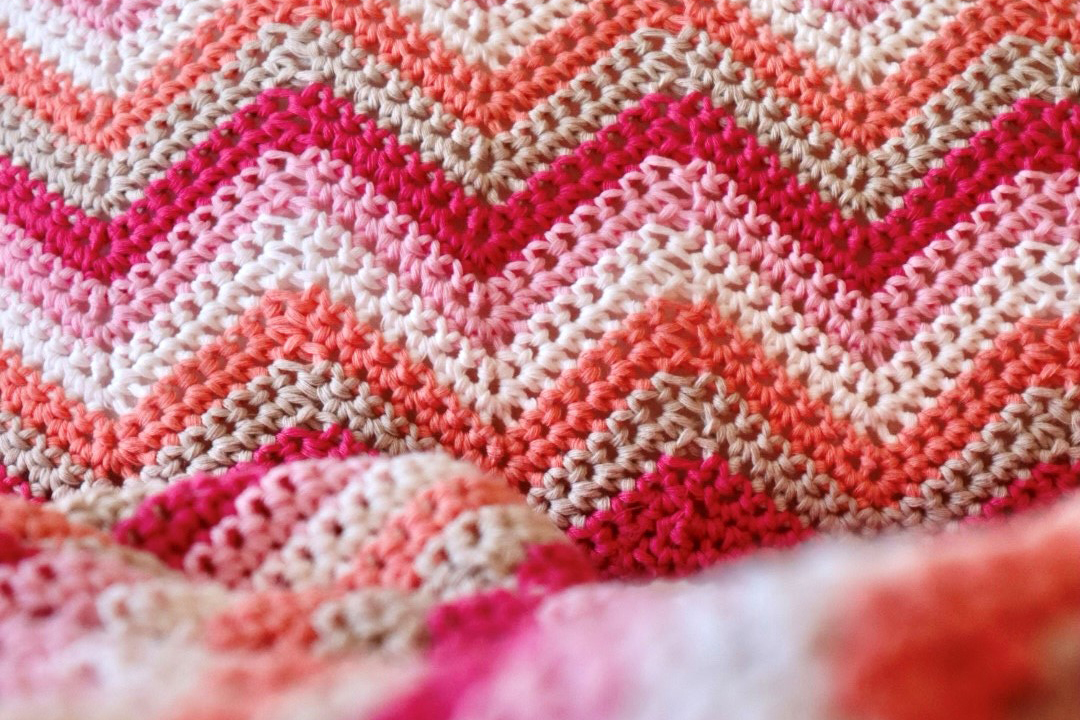 Step 2: Join the front and back panel with a round of dc.
Row 1: Place the two panels on top of each other with the right side facing out. Crochet an edge all around in dc using California Sand. Remembering to work dc 2 separated by ch 1 into each corner to make a flat and even border. Insert the cushion filling before closing up. When you reach the beginning of the round, close with a sl st into your first chain stitch. Fasten off and weave in all ends securely.
Used stitches:
Chain (ch)
Double crochet (dc)
Slip stitch (sl.st)
Decrease by skipping a stitch (decr)
Increase (inc)
Right side (RS)
Change colour