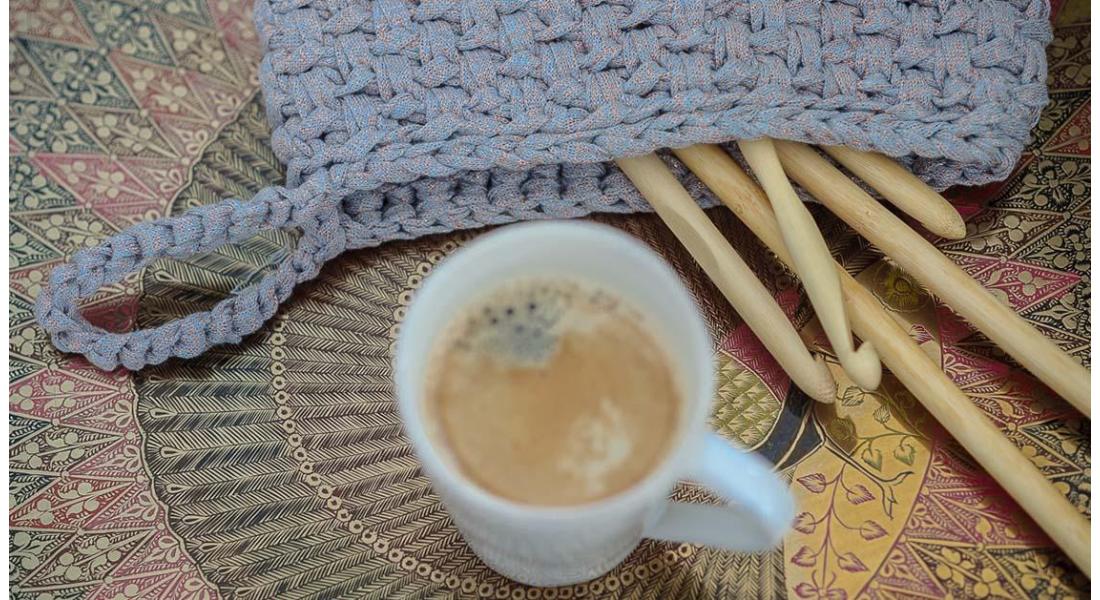 Choosing the correct needle size is important!
It is not always easy to figure out what size of crochet hook or knitting needle you need for your next project. In general, you will need a larger hook or needle size for chunky yarns and, smaller sized hooks and needles will be used for thinner yarns. But it also depends on the type of stitches, stitch count, and our tension. Choosing the correct needle size is an important part of the success of your project!
Check the gauge to determine the correct needle size.
If you are following a pattern, then most likely the designer will tell you what size needle you will need to achieve the correct gauge. It is always recommended to make a tension swatch, to help you determine the correct gauge. But even if you know what gauge you are after, then you still can get stuck on the differences between the metrical system used in Europe and Australia, versus the UK system (with other numbers) and USA needle sizing (with letters and numbers).
Be aware of international differences in needle sizes.
When reading a pattern, it is important to acknowledge there are regional differences when it comes to sizing crochet hooks and knitting needles. Different designers will use different measuring systems, according to what they are accustomed to. In this blog, you will read all about the crochet hooks and knitting needles sizes. For your convenience, we have included a complete conversion table for crochet hooks and knitting needle sizes. We will end all your confusion regarding needle sizes and how to read them. So, make sure to bookmark this page for future references!
What determines the size of crochet hooks and knitting needles?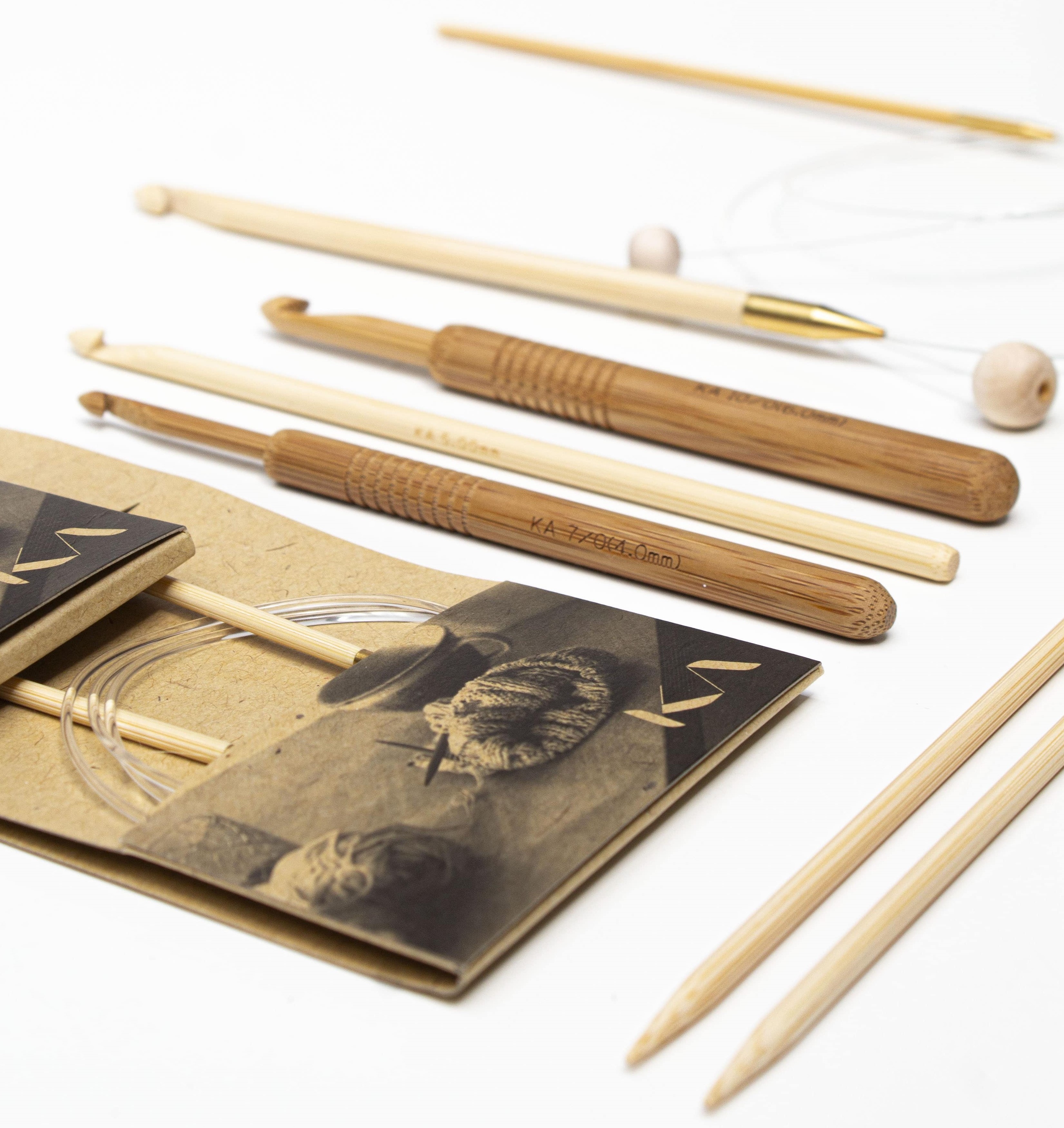 The size of crochet hooks and knitting needles is determined by the diameter of the shaft. The size of the shaft determines the size of the yarn loops you will be able to make when knitting and crocheting. Of course, different manufacturers of crochet hooks and knitting needles produce different shapes of hooks on crochet hooks and tips on knitting needles, which may lead to slight differences in measuring systems. This can impact sizing indication on the crochet hooks and knitting needles to some extent. Another important thing to consider is the material of which the hooks and needles are made, in this blog we will focus on the materials we use at Hoooked.
Bamboo and wooden crochet hooks and knitting needles.

Wooden and bamboo are a pleasure to work with. They are lightweight and give a firm grip (they do not slip as easily as aluminum, resin, or plastics). Wooden knitting needles and bamboo crochet hooks feel natural to the touch and do not get warm when working on bigger, more time-consuming projects. Wooden and bamboo hooks and needles are mostly used for chunky, smooth yarns such as Hoooked Zpagetti and RibbonXL. The head of wooden crochet hooks is more rounded and the nose is somewhat shallower and the throat of the hook may feel a little rough at first. Bamboo and wooden needles become smoother after use.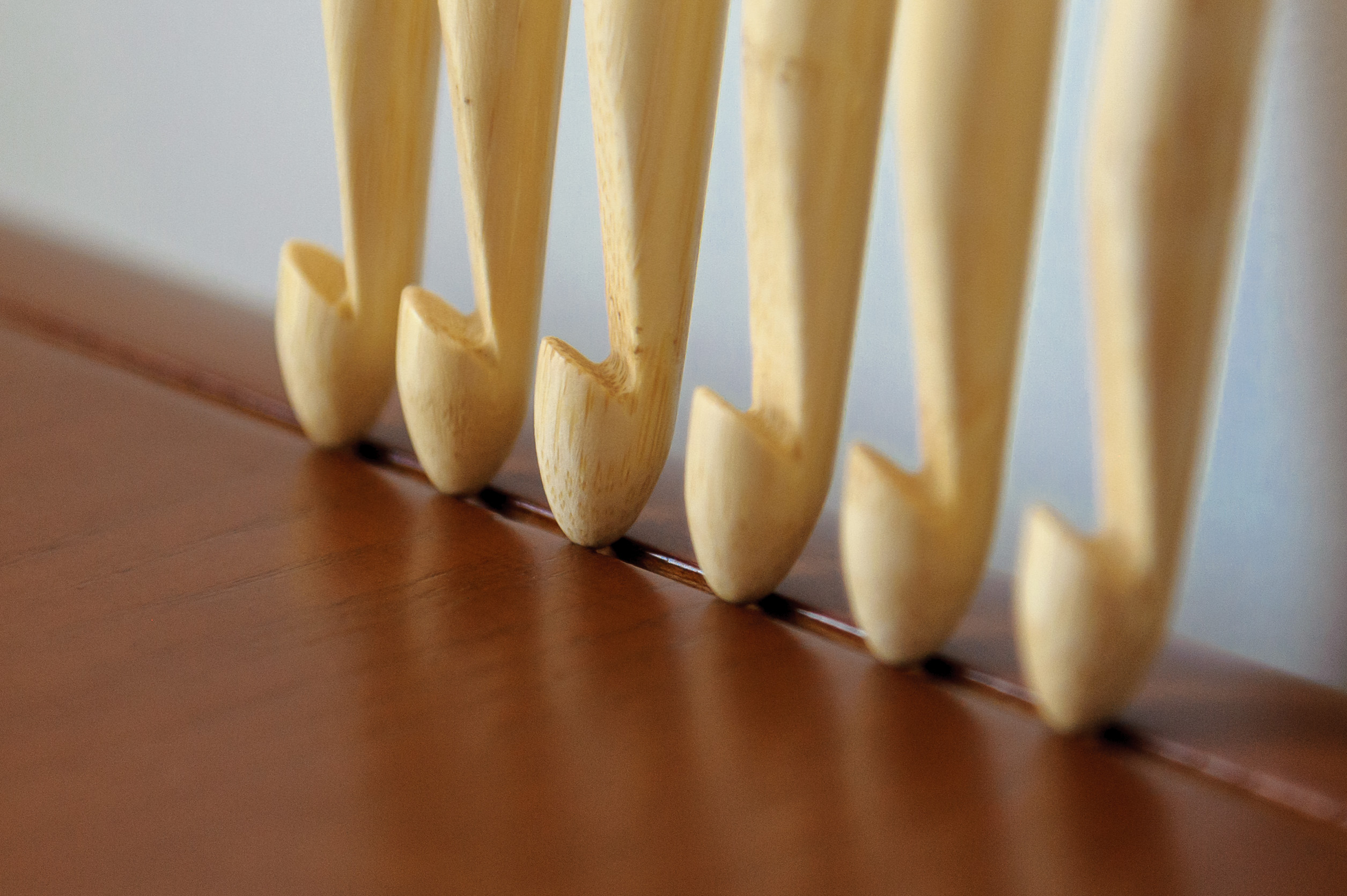 Recycled plastic crochet hooks and knitting needles.
The recycled plastic crochet hooks and knitting needles are produced after a generic mould we made at Hoooked (3-d drawing) which can be digitally adjusted to produce any size. The recycled plastic is derived from recycled household plastics granules which are heated and "poured" in the mould. The "recycled plastic lava" is cooled after which the plastic will harden. Recycled plastic has the advantage that it can be produced in multiple colours and sizes. It is also easier to adjust the shape of the hook on the crochet hook (for example a sharper head and deeper throat).
Hoooked conversion chart for knitting needle and crochet hook sizes.
With the above information in the back of your head, it is easy to use our international needle size conversion chart. With this chart, you will be able to find corresponding sizes in various countries. You will now have the info you need to get the correct hook and needle gauge. So, no more confusion between US, UK, and metric crochet sizes and knitting needle sizes!
Note: Please use the Hoooked crochet hooks and knitting needle size conversion table as a guide, actual sizes may differ by manufacturer because of shapes and materials of crochet hooks.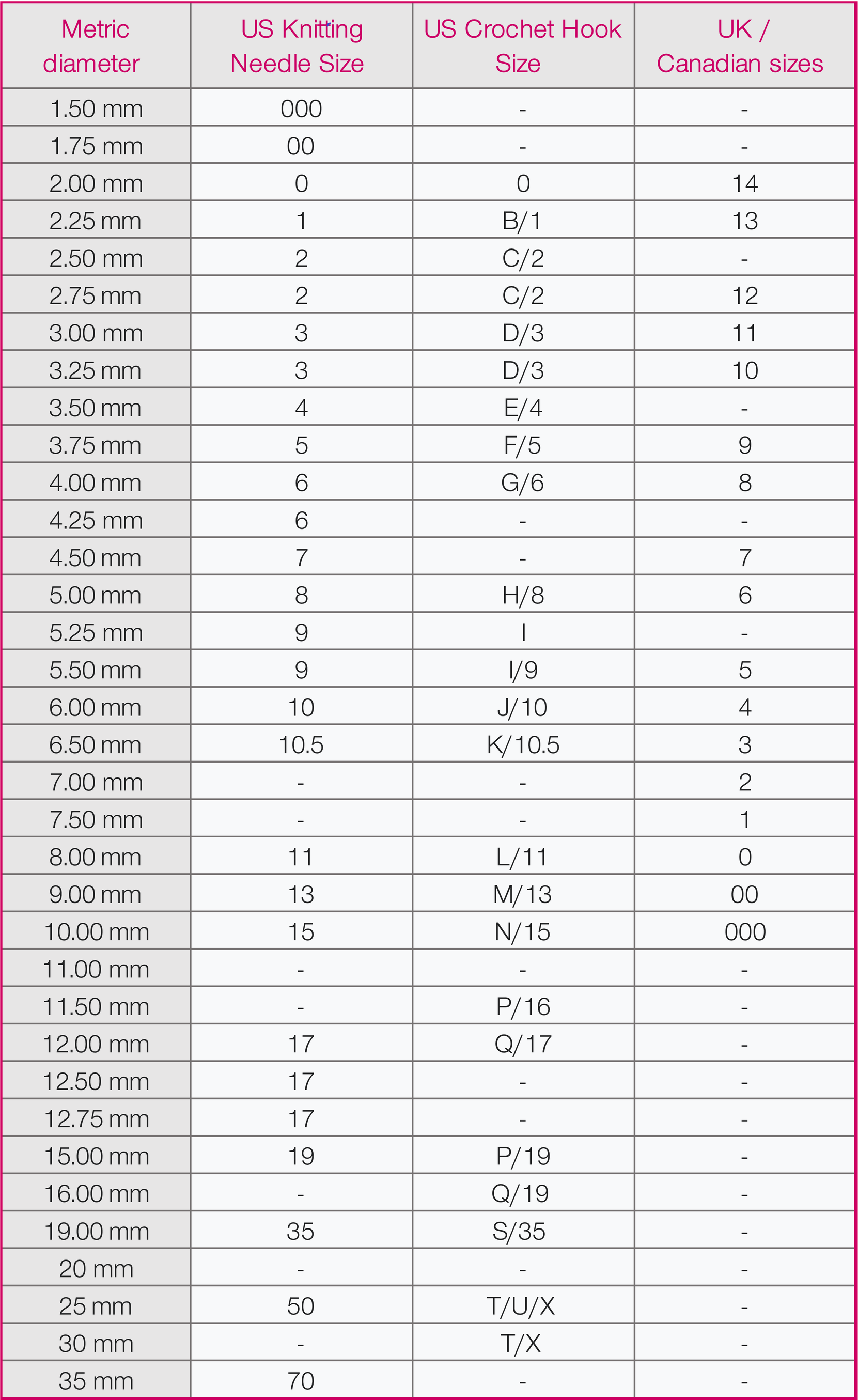 Now I know my needle sizes and how to convert them, what's next?
If you found this blog useful, then pin this post to your Pinterest board. This way you will be able to find this information when you need it in the future. If you have a question or comment, please let us know by commenting below this blog or contacting us via our social media.
Explore more about Hoooked!
If you would love to read more about knitting and crocheting with Hoooked yarns, then make sure not to miss these blogs: