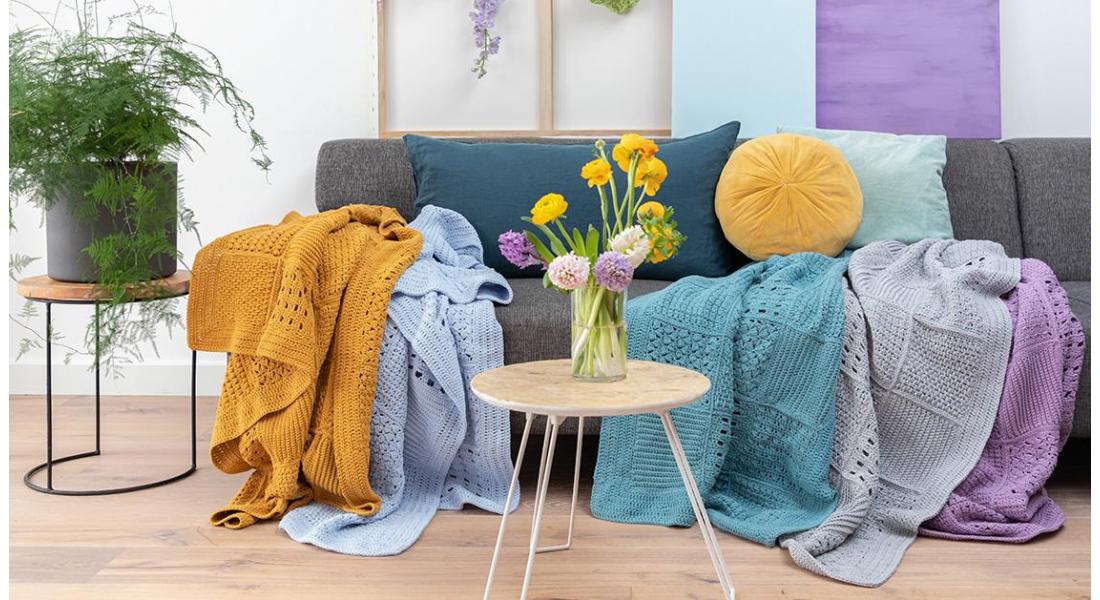 Knit and crochet spring into your home!
It is getting warmer and with the upcoming months ahead of us, we want to give you the best inspiration to get started for spring. Of course, we have also included a fun project for Easter. Are you looking for inspiration to start your next spring project? Read this blog and get inspired by our patterns for crochet, macramé, and knitting! These five DIY patterns make us look forward to spring!
1. Spring vibes with a super soft spring blanket
1. Spring vibes with a super soft spring blanket
This crochet blanket is designed by StudioHedwig and consists of 35 squares in 7 different stitch patterns made with Soft Cotton DK. This is a wonderful textured crochet afghan to decorate the sofa! The large number of smaller crochet squares makes this project easy to divide into "bite-size portions", making this crochet cotton blanket an ideal spring project for in-between or on-the-go crochet. This crochet blanket pattern is a fun challenge for the crochet lover looking to learn new crochet stitch patterns! The DIY kit includes the yarn, the pattern, a booklet, and the crochet hook. The kit comes in 5 different colours and all the colours give us early spring vibes.
---
2. Tie a retro macramé plant hanger
Get inspired with this 70s macramé plant hanger! The knotted plant hanger gives your interior a colourful retro look. Very easy to knot and therefore perfect for beginners. Knot this plant hanger with Zpagetti, a beautiful recycled textile yarn. This spring project is not only suitable for indoors, but also great for outdoors. Choose your favourite colour of Zpagetti T-shirt yarn and get straight to work to make a set of hanging plant pendants for your hanging garden.
3. Neat and tidy with a knitted hanging basket
After a major spring clean, you'll want to keep your home tidy. This knitted hanging basket will come in handy then. The pattern for this knitted basket is very easy to knit and has plenty of room to store clutter. This design was created by the talented American designer Jen Geigley. For the basket you will need 2 x 250g. RibbonXL Spicy Ocre and 7 mm circular knitting needles.
---
Crochet these Happy Hoppy Easter Eggs for Easter and get into the mood for spring. These cute amigurumi crocheted Easter eggs are designed by the Canadian amigurumi designer Jade from AllFromJade. The test crochet work was done by our sweet Hennie. These crochet easter eggs can be hung on a branch or placed on a plate to decorate the easter table. The Easter eggs are crocheted with Soft Cotton DK, a soft and recycled cotton yarn. Looking for other DIY projects for Easter? Then take a look at our other Easter projects.
---
5. Colourful cushions with fruit motifs
These fresh and fruity cushions in cheerful, bright colours are a great way to prepare your living room and garden for summer! These colours really pop! This crochet pattern for fruity cushions is a "golden oldie" from our Italian crochet friend Samanta from FollowtheCrochet. The cushions are crocheted with RibbonXL, and 10 mm crochet hook.
Get creative in the spring!
What are you going to make to get into the spring mood? We are very curious to know which of these DIY spring patterns is your favourite. We always love to see your handmade creations on our social media. Share your creations on Instagram and Facebook with #shareyourhoooked.
Would you like to stay up to date with us? Please take a look at our Facebook and/or Instagram page and join our community of crafters.
Read more about Hoooked
If you want to read more about knitting and crocheting with Hoooked yarns, then don't miss these blogs: